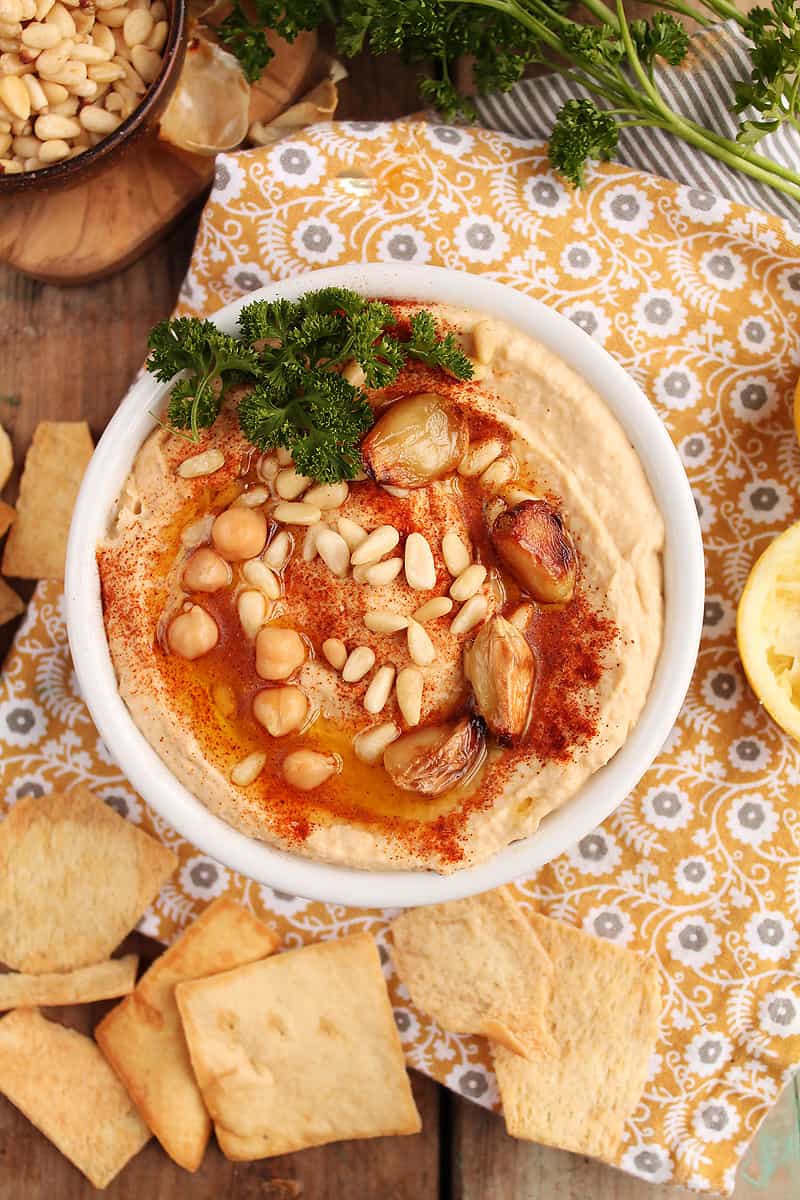 There are a few foods I usually choose to buy at the store rather than make myself. Among those are fresh salsa and pico de gallo, most salad dressings, and hummus. I know, I know. Homemade is cheaper, fresher, and limitless with variations but I live a busy life and sometimes a girl's gotta make some sacrifices.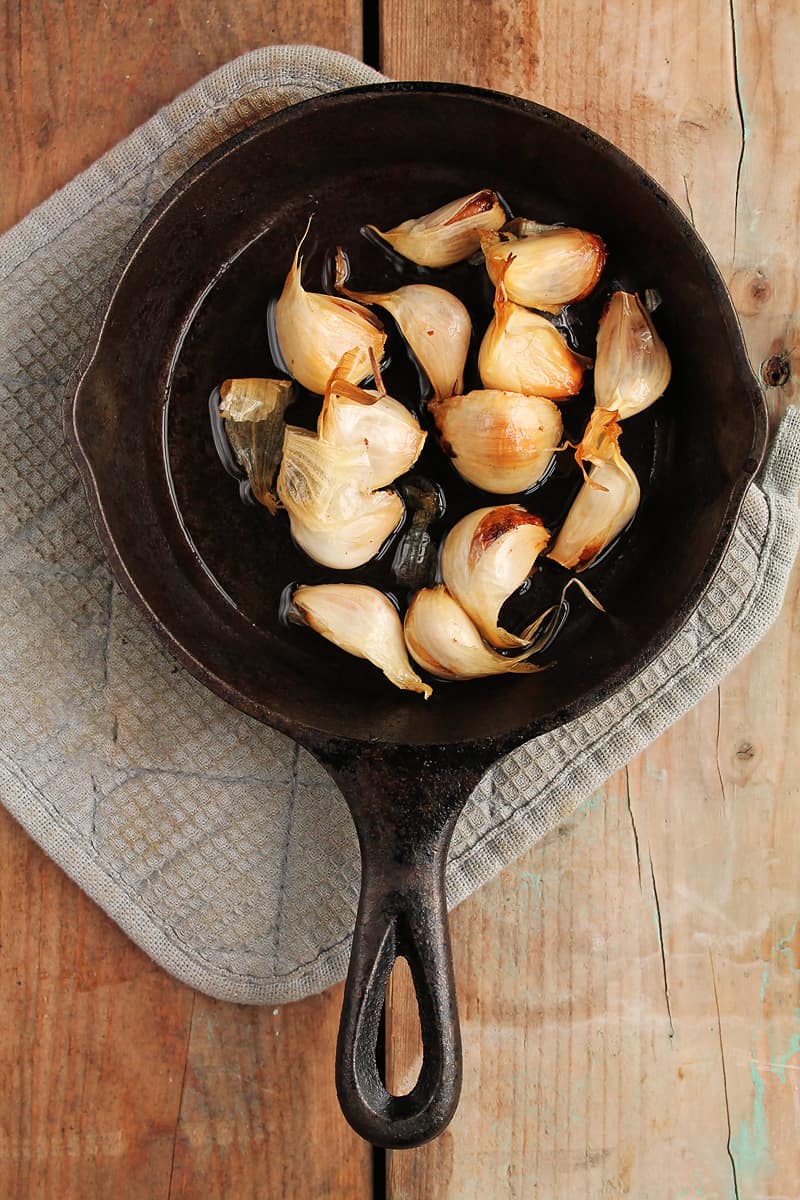 Then something happened.
Last week I got a chance to try a fresh salsa that was so delicious AND completely, totally, and ridiculously easy to make that I felt I had run out of excuses for why I choose store bought. Inspired and motivated, I set to work making this Roasted Garlic Hummus, quite literally the first hummus I've made in a decade and therefore, the first hummus recipe on My Darling Vegan.
What did I learn from breaking away from a decade of excuses, rolling up my sleeves, and blending my own damn chickpeas?
Homemade hummus is way cheaper
Homemade hummus is fresher
Homemade hummus is limitless with possibilities.
Yes, I already knew that. What else?
Homemade hummus is completely, totally, and ridiculously easy to make!
About 10 years ago I worked for a wonderful Lebanese woman named Marie Catrib. You can read about how she shaped me into who I am today here and here. Long story short, she was one of the most influential people in my life and is sadly no longer with us. Among her many talents, Marie made the best hummus I have ever had. Ever. In fact, she made the best of most things.
What makes her hummus so good, you ask?
Three things: lots of garlic, lots of lemon, lots of love.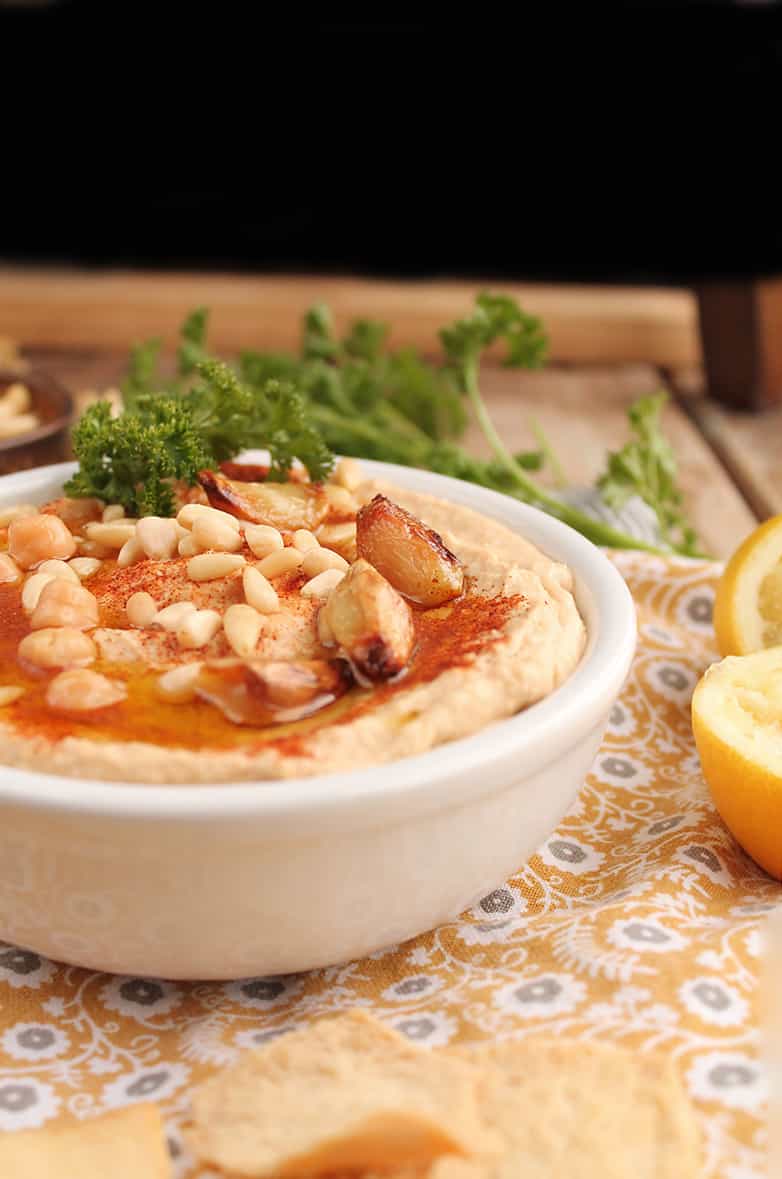 This Roasted Garlic Hummus is not meant to emulate Marie's but – as my first homemade hummus since working for her – to honor her memory. A hummus filled with sweet, roasted garlicky goodness, creamy chickpeas, zesty lemon, and nutty tahini flavor for a satisfying homemade hummus that can we whipped together in minutes.
Did I learn any other lessons from making my own hummus? Why, yes I did.
There is no need to buy store bought hummus ever again.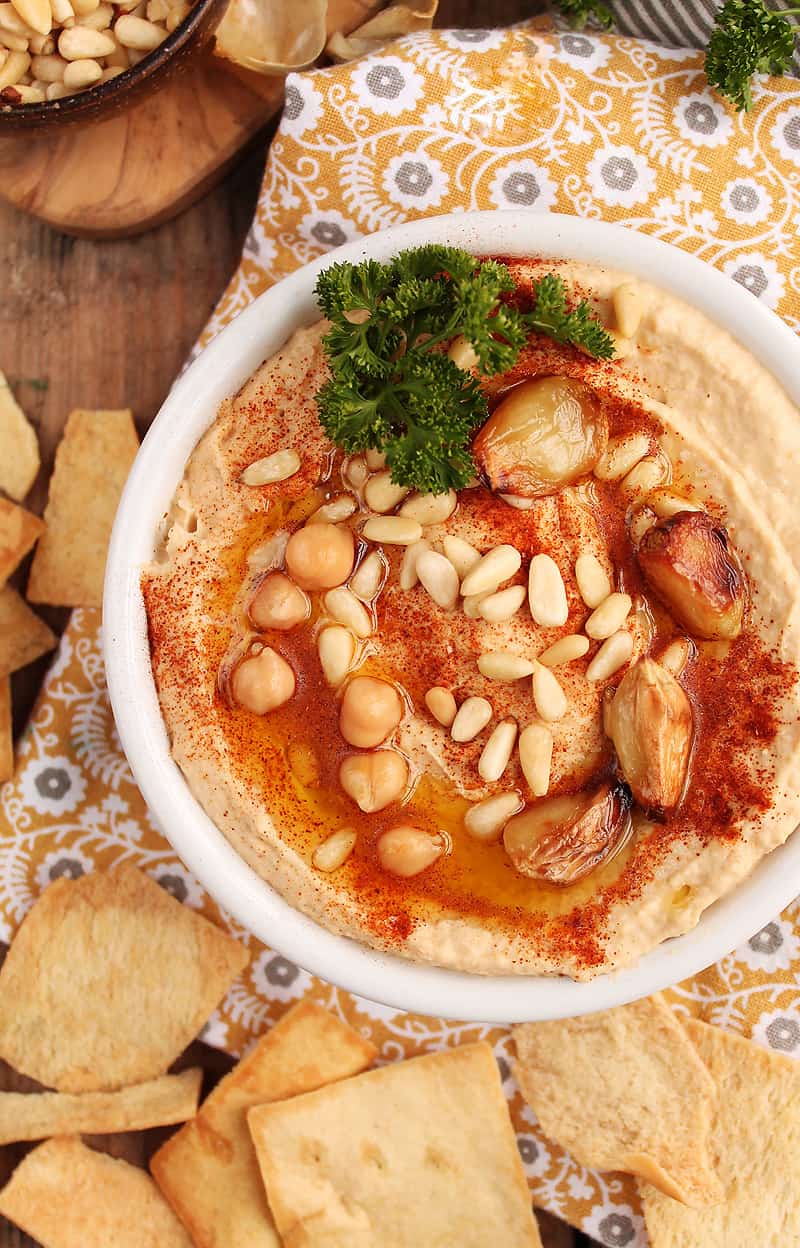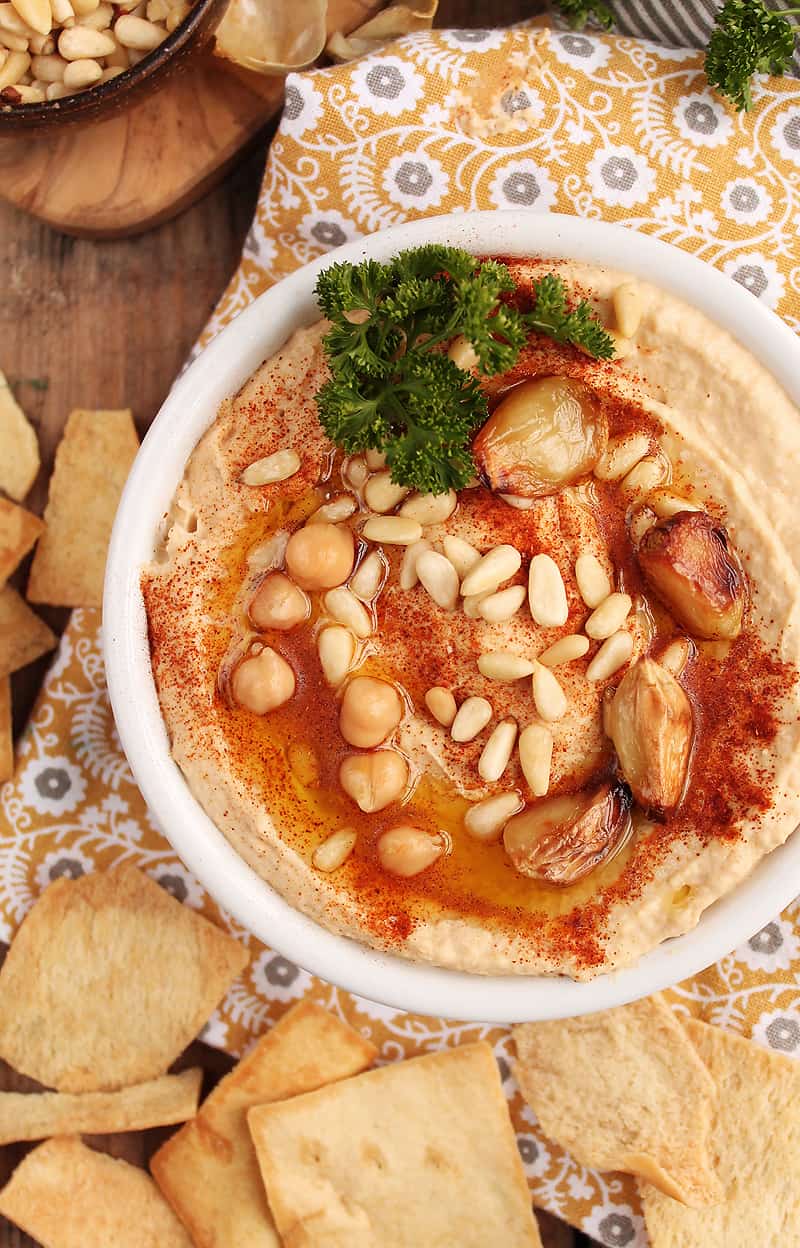 Roasted Garlic Hummus
2017-01-10 05:23:55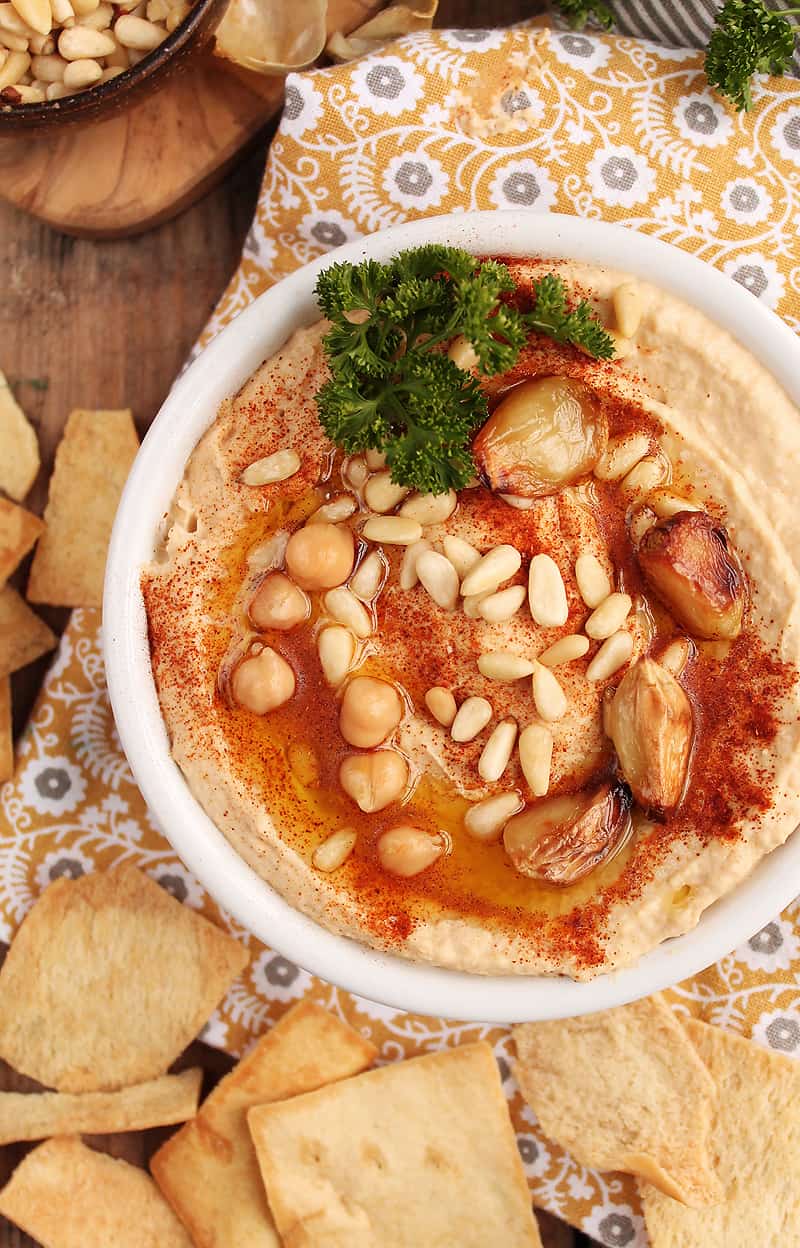 makes about 3 cups
Roasted Garlic Hummus
2 cups canned chickpea, drained and liquid reserved
1/4 cup tahini paste
2 tablespoons olive oil
juice of 2 lemons
10-12 cloves roasted garlic
1/4 cup reserved chickpea liquid
3/4 teaspoon cumin
salt to taste
Toppings (optional)
olive oil
fresh parsley
roasted garlic
paprika
Instructions
Roast garlic according to these directions.
In a food processor combine chickpeas, tahini, 2 tablespoons olive oil, lemon juice, roasted garlic, reserved chickpea liquid, cumin, and salt. Blend until very smooth, scraping down the sides as needed.
Serve with desired toppings and crackers, pita, or vegetables.
Store in an airtight container in the refrigerator for up to 5 days.
My Darling Vegan https://www.mydarlingvegan.com/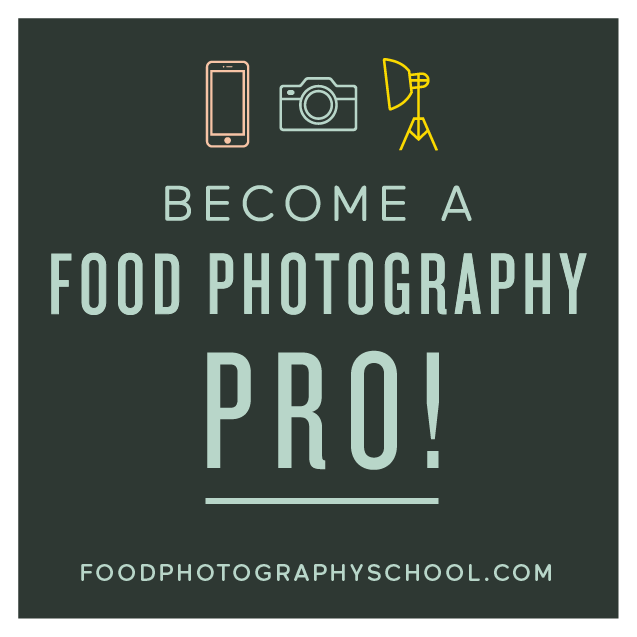 Sign up for
My Darling Vegan Newsletter
get a FREE copy of my Clean Eating Vegan ebook
Advertise Here