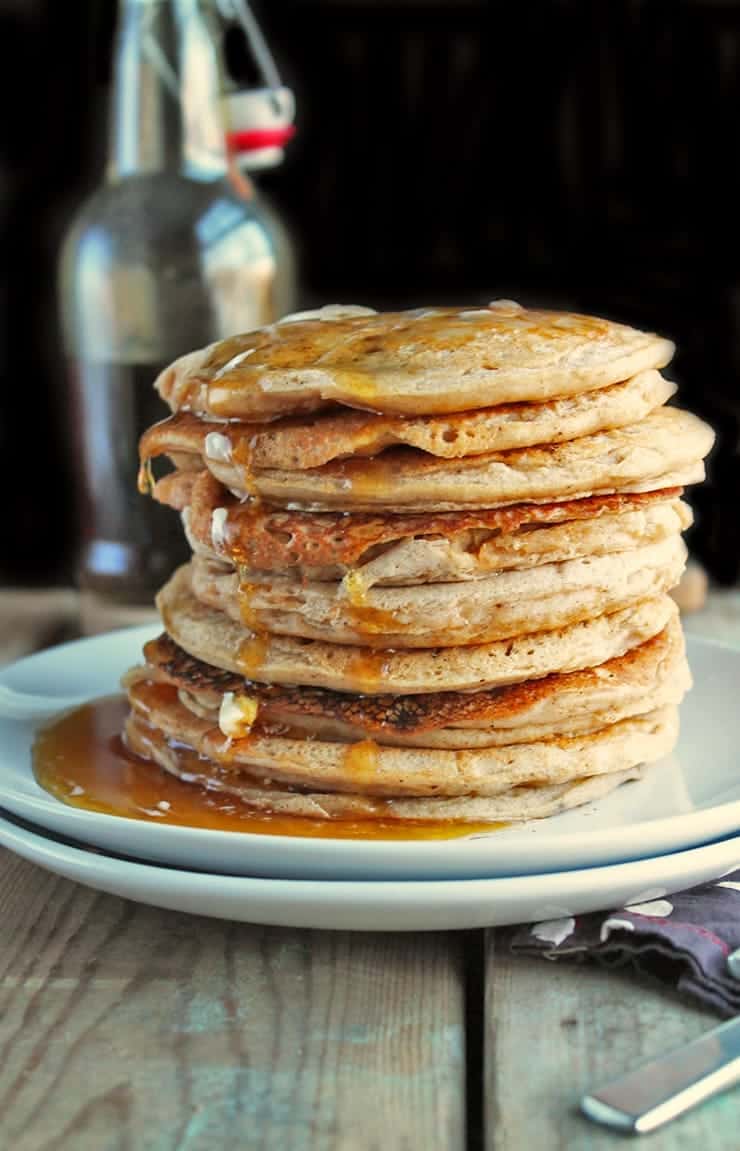 I don't know about you, but I know exactly what I'm waking up to this Christmas. Yep, after the coffee has been drank and the presents have been opened, I'm looking at you, vegan eggnog pancakes with buttered rum maple syrup.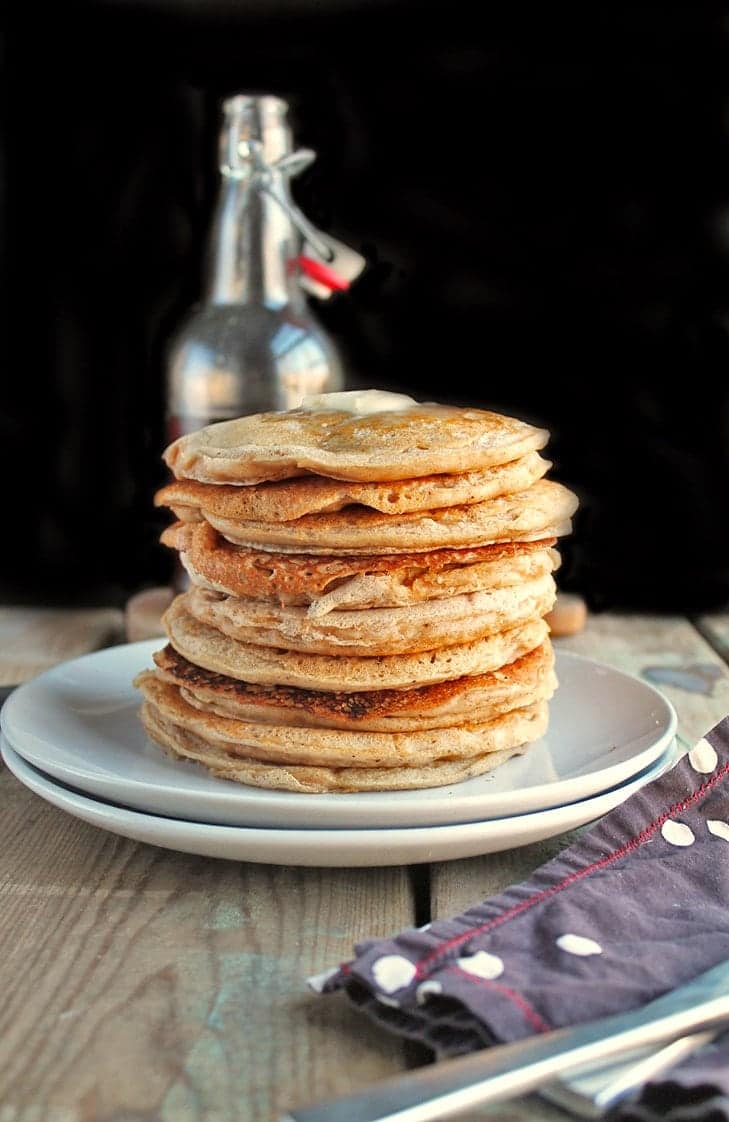 Truth be told, I'm not much of a pancake person. When it comes to breakfast, I will always choose savory over sweet. Despite that, I end up making a lot of pancakes because my kids, on the other hand, choose sweet over EVERYTHING. ALL THE TIME. This has turned into a weekly morning pancake breakfast routine and over time I've come to enjoy our tradition quite a lot.
So when I was thinking about a Christmas morning breakfast that spark the holiday spirit, I came up with these vegan eggnog pancakes (minus the buttered rum part for the kiddos, of course) as a way to give a little festive flair to our tradition.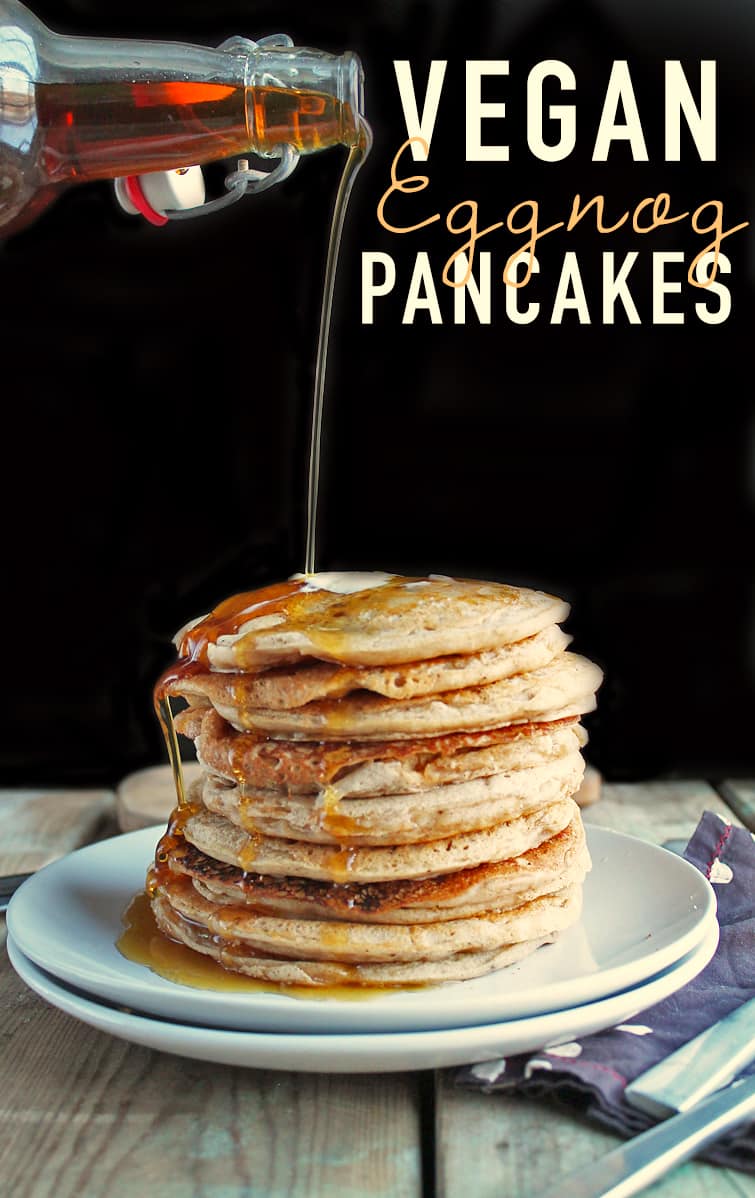 Don't be deceived. These vegan eggnog pancakes are super simple and can be thrown together in under 10 minutes making for a wonderful seasonal twist on everyone's favorite breakfast. The buttered rum maple syrup can be made a day or two before if you're looking to skip a step on Christmas morning.
So, are you ready to celebrate this Christmas in sweet & spicy style? Great. Let's go!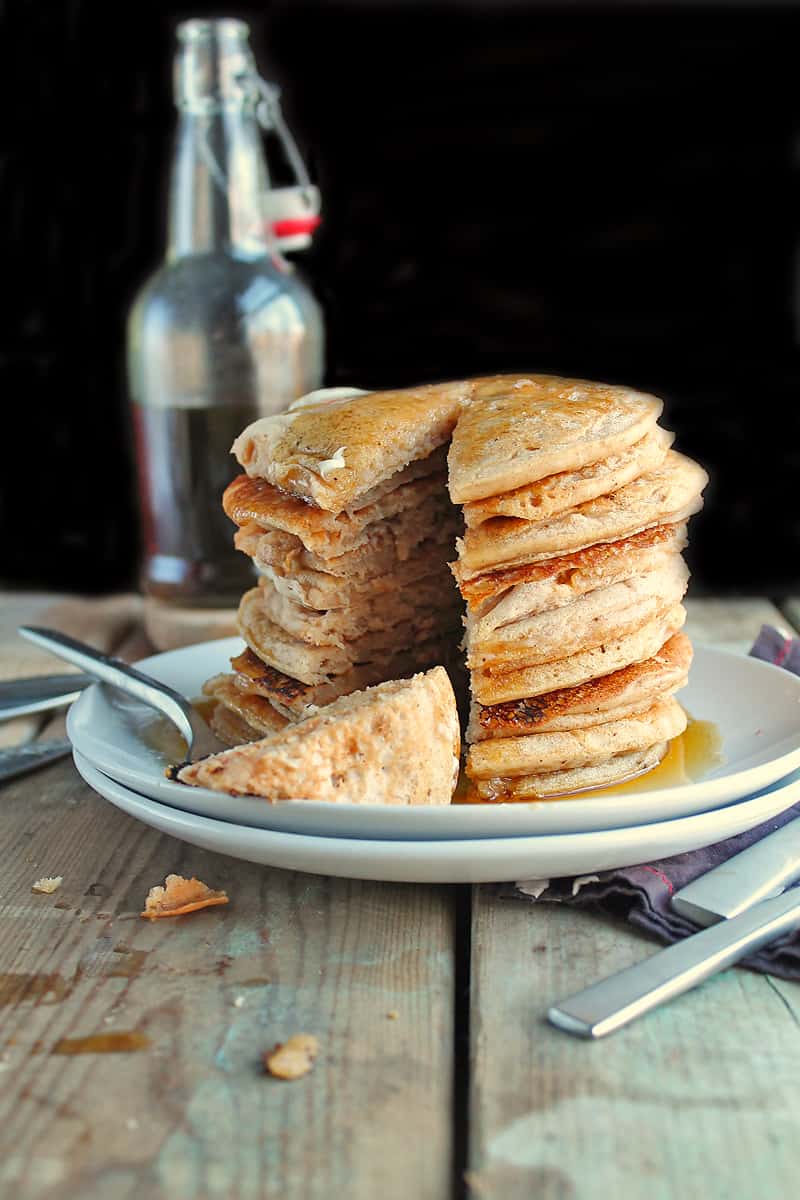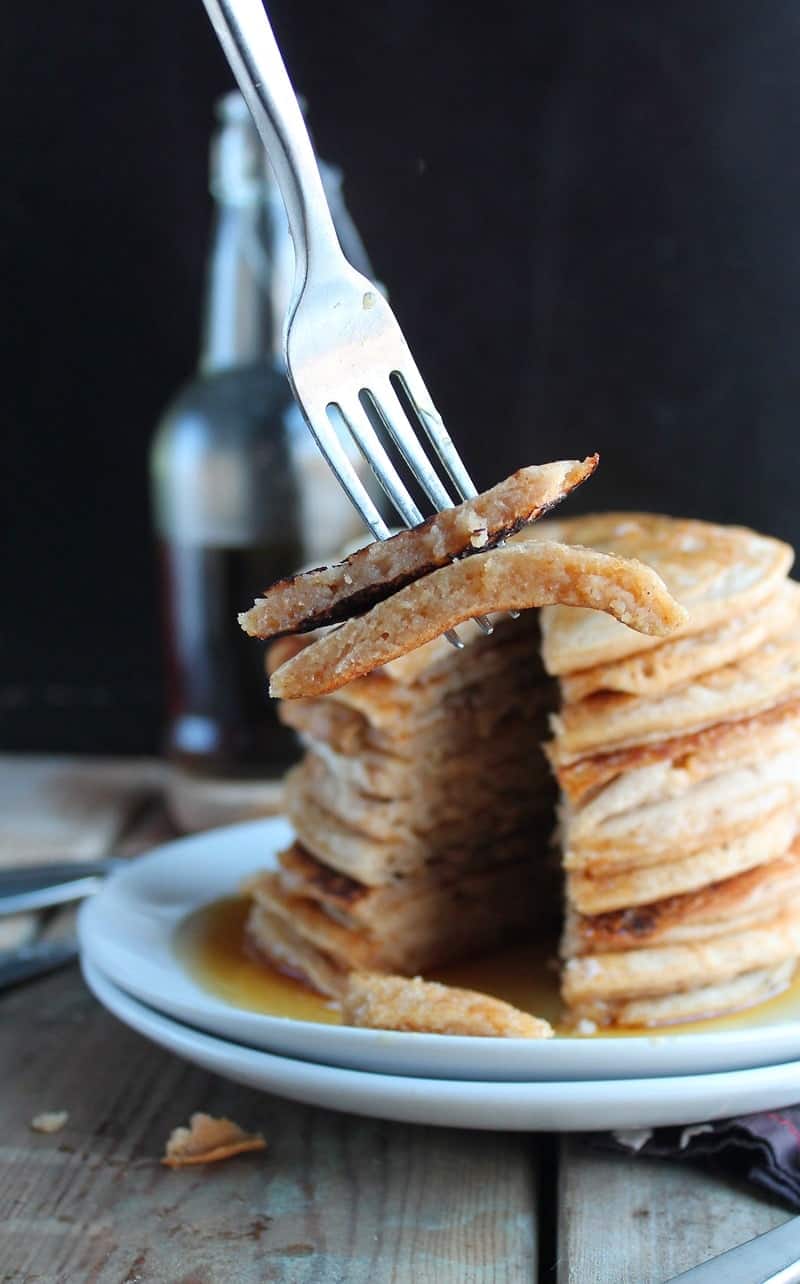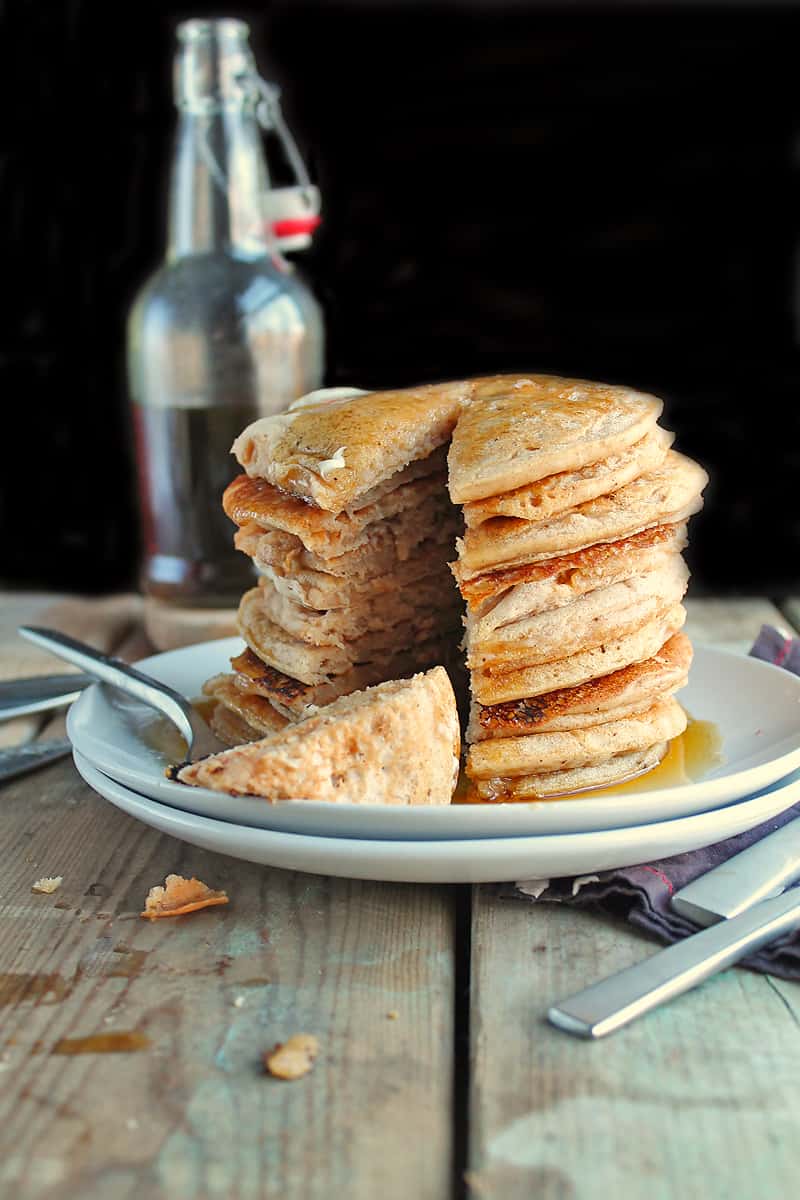 Eggnog Pancakes with Rum Maple Syrup
2016-12-30 23:07:49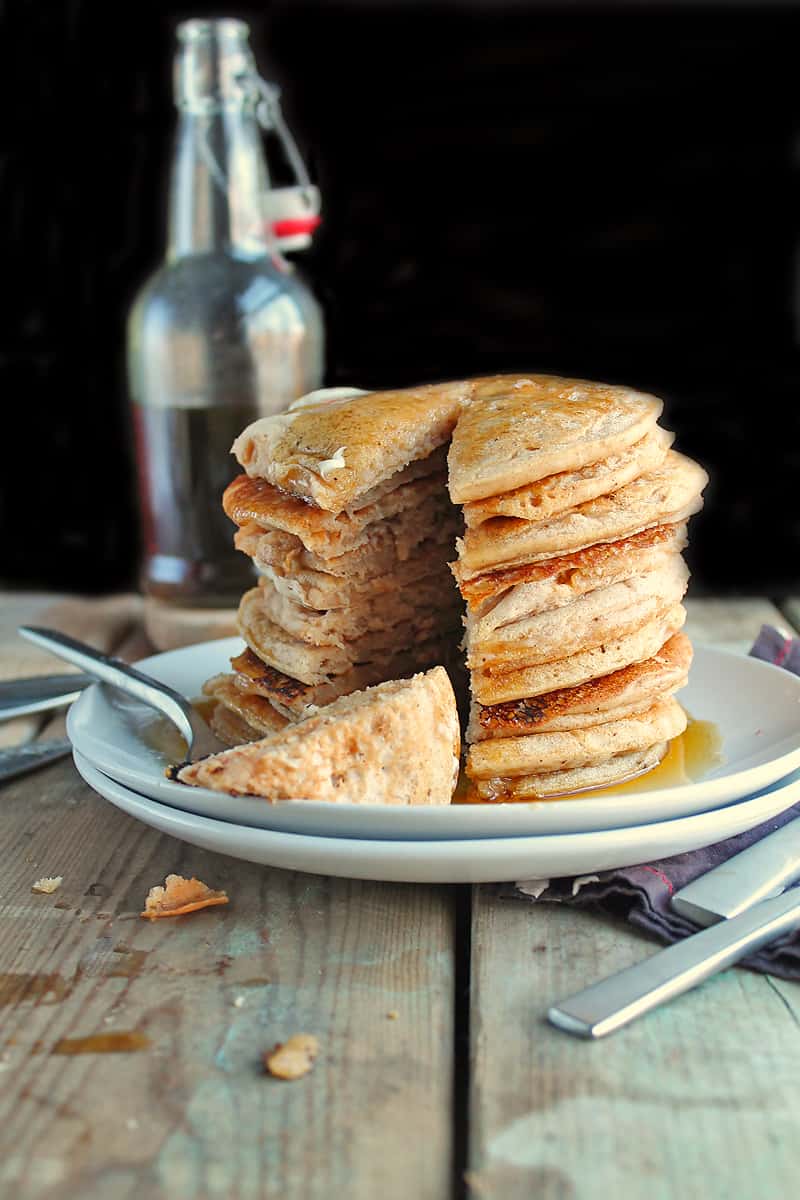 Serves 4
Eggnog Pancakes
2 cups all-purpose flour
1 tablespoon baking powder
1 teaspoon cinnamon
1/4 teaspoon salt
1/4 teaspoon nutmeg
1/4 teaspoon ground cloves
2 1/4 cup vegan nog
3 tablespoon coconut oil, melted
1/4 cup Buttered Rum Maple Syrup (recipe follows
1 teaspoon pure vanilla extract
oil for pan
Butter Rum Maple Syrup
1 cup pure maple syrup
2 tablespoons vegan butter
2 tablespoon dark rum
To make pancakes
Preheat skillet or pancake griddle over medium heat.
Whisk flour, baking powder, salt, and spices in a large bowl. In a separate bowl combine vegan nog, coconut oil, Buttered Rum Maple Syrup, and vanilla extract. Add to the dry ingredients and stir together.
Pour about 1/4 cup of batter onto the hot skilled or griddle and cook 3-4 minutes until bubbles start to appear on the surface. Flip and cook for another 2 minutes. Serve immediately with Buttered Rum Maple Syrup.
To make Buttered Rum Maple Syrup
Heat maple syrup and butter in small sauce pan until butter has melted. Remove from heat and whisk in rum. Let cool.
My Darling Vegan https://www.mydarlingvegan.com/
Looking for more holiday-inspired recipes? Make sure to check out all my other Christmas recipes
here
.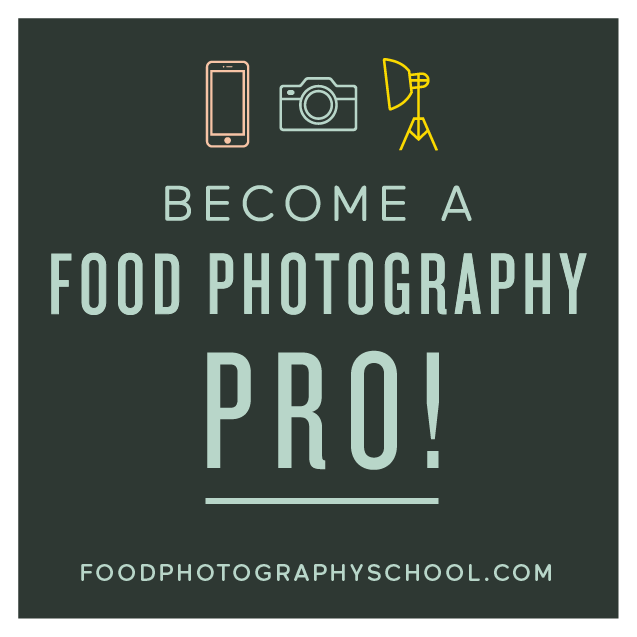 Sign up for
My Darling Vegan Newsletter
get a FREE copy of my Clean Eating Vegan ebook
Advertise Here