This is a sponsored post written by me on behalf of Whole Earth Sweetener Co.. All opinions are 100% mine.
It's that time of year again!
You know what I'm talking about. That time of year when all you want to do is bake cookies and all you want to eat is said cookies. Yep, it's time to get out your wire whisks and paper piping bags, stock up on spices and sweeteners, and put on your stretchy pants…we are gonna start baking and we're never gonna stop (until New Years).
With all the cookie baking that's going to be happening over the next six weeks, I have been looking for ways to cut back on some of that refined sugar. Lucky me, I didn't have to look far. A few weeks ago I was introduced to Whole Earth Sweetener Co. and I was immediately impressed with their zero and lower calorie sweeteners.
Whole Earth Sweetener Co. is a company that is focused on great tasting, non-GMO sweeteners that are zero or lower calories. By combining naturally found extracts and fruit such as agave, stevia, monk fruit, and cane sugar and blending them into their signature sweeteners, they have done just what they have sought out to do: create sweetener blends that do not compromise on taste and can be part of a healthier lifestyle.
With all this in mind, I was eager to start sampling their products.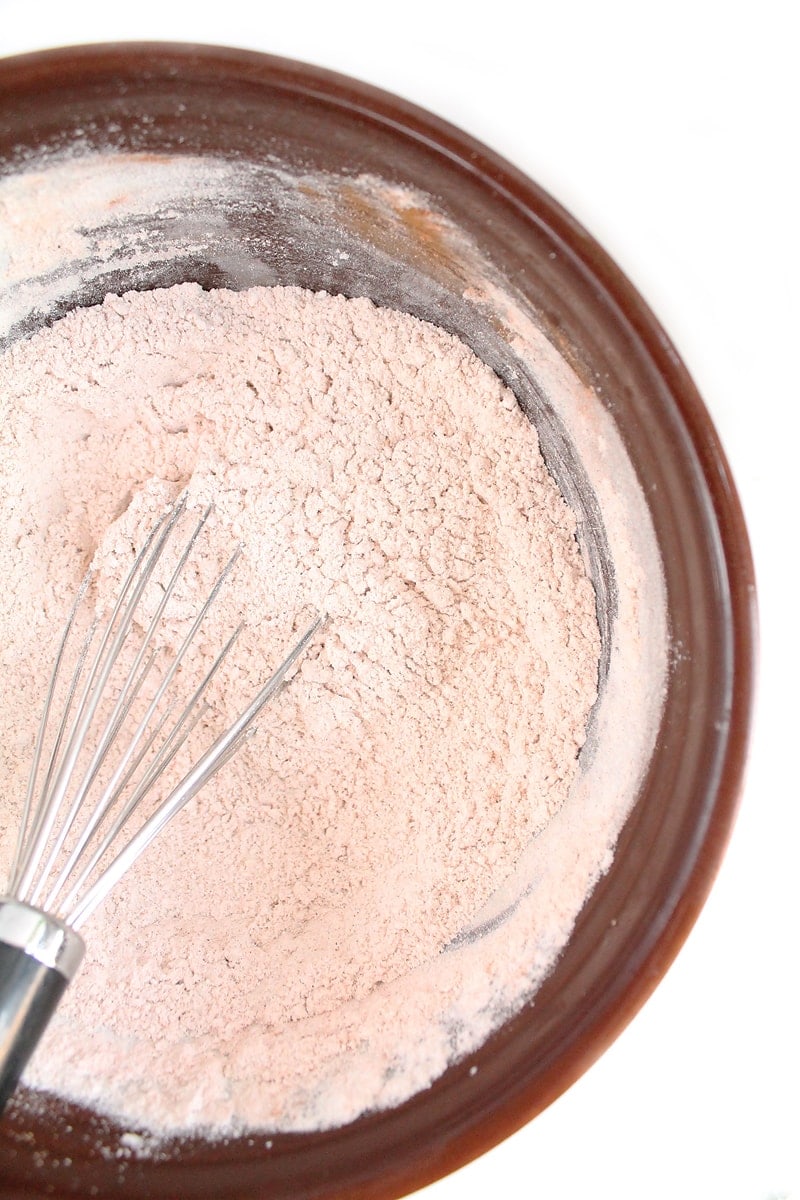 Whole Earth Sweetener Co. has a variety of products including:
Nature Sweet Packets – a non-GMO, zero calorie alternative to sugar for coffee and tea
Baking Blend – a non-GMO Project Verified sugar and stevia blend that can be used in place of sugar for 50% less calories per serving than traditional sugar
Whole Earth Sweetener Agave 50 – an organic, non-GMO Project Verified agave blend that has 50% less fewer calories per serving than traditional agave
You can read about their complete inventory here.
So I had the goods. How was I going to put them to the test?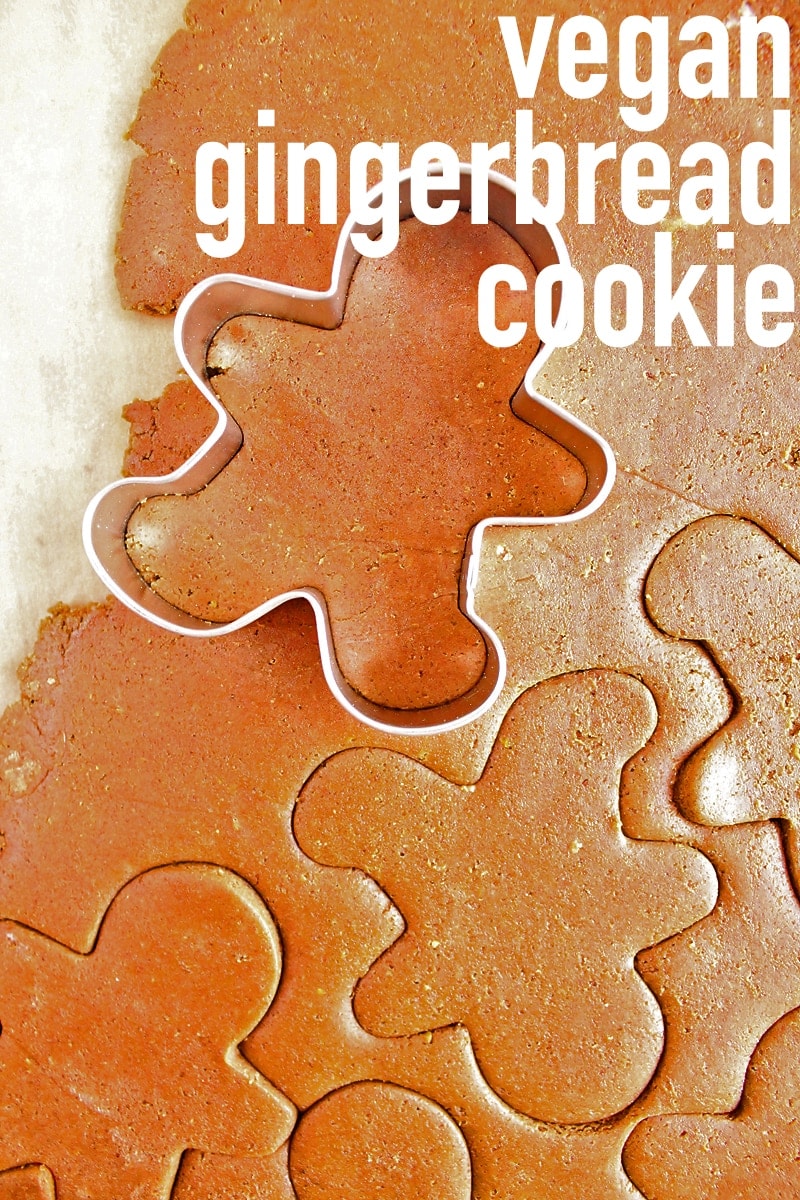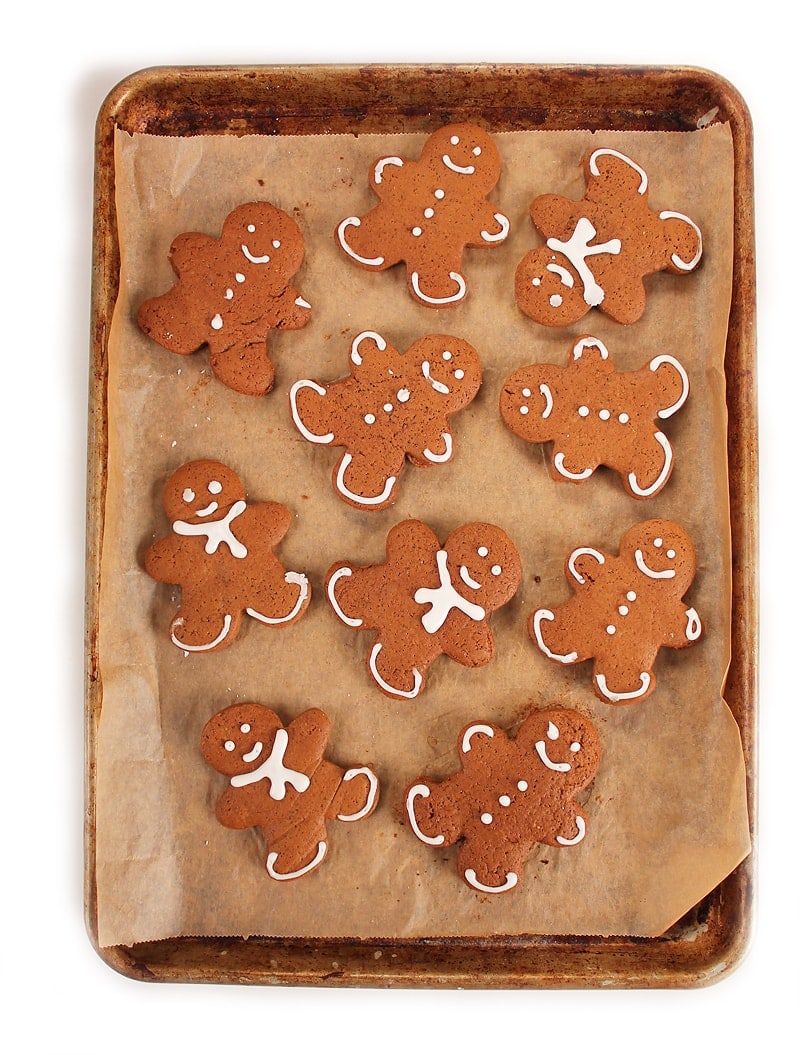 Last week my 4-year-old daughter told me her favorite activity "in the whole world" was to bake with me. It melts my heart when she says things like this and, of course, makes me eager to find ways for me to include her in my projects. As you might imagine, adding a 4-year-old into an already small kitchen and giving her a whisk and a bowl full of flour and spices can be a little stressful (especially when her 2-year-old brother wants to keep checking to see if when I say, "the oven is hot" I really mean it). But after a little trial and error on my part, I found the perfect way to involve both of them in my baking while getting a chance to test out Whole Earth Sweetener Co.'s products: Vegan Gingerbread Cookies. Low mess with decorating fun AND a straight-forward recipe to see how Whole Earth Sweetener's products substitute for traditional sweeteners.
These cookies use both the Baking Blend and Whole Earth Sweetener Agave 50 for a perfectly sweet and spicy cookie and, I'm happy to report, with no compromise in flavor!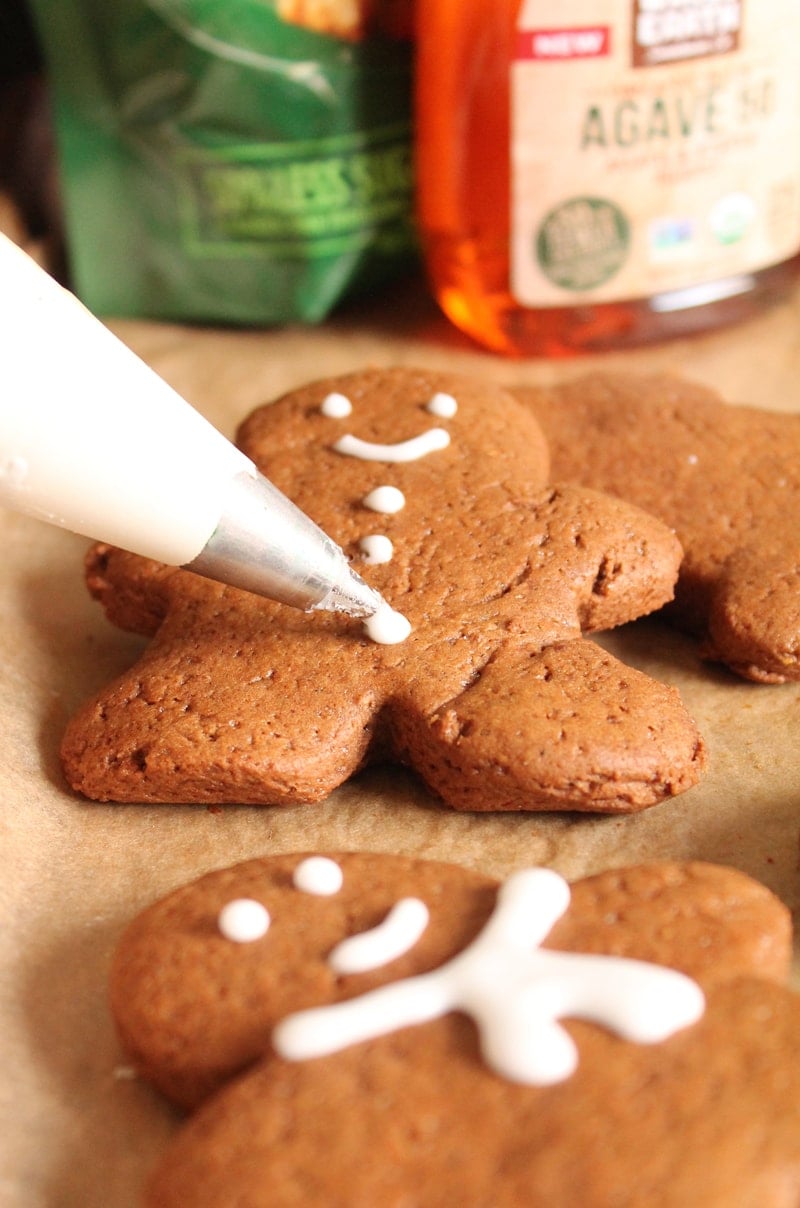 So, begin your holiday baking the smart way – with Whole Earth Sweetener Co. You can find their products at Starbucks, online, or at a store near you.
Happy baking!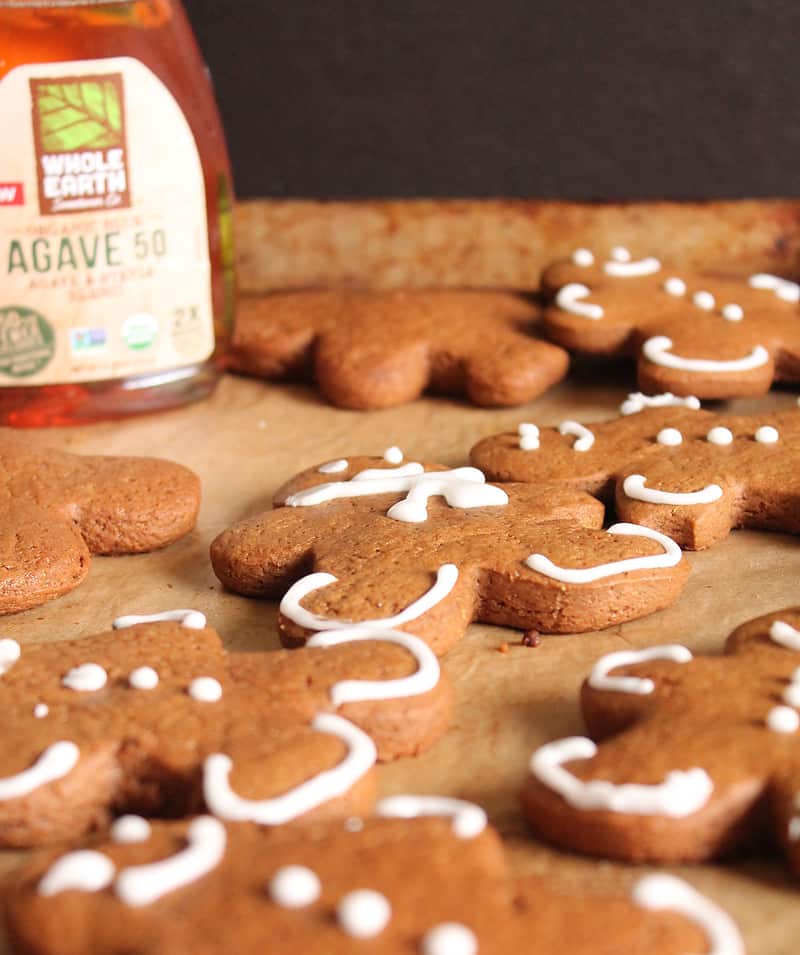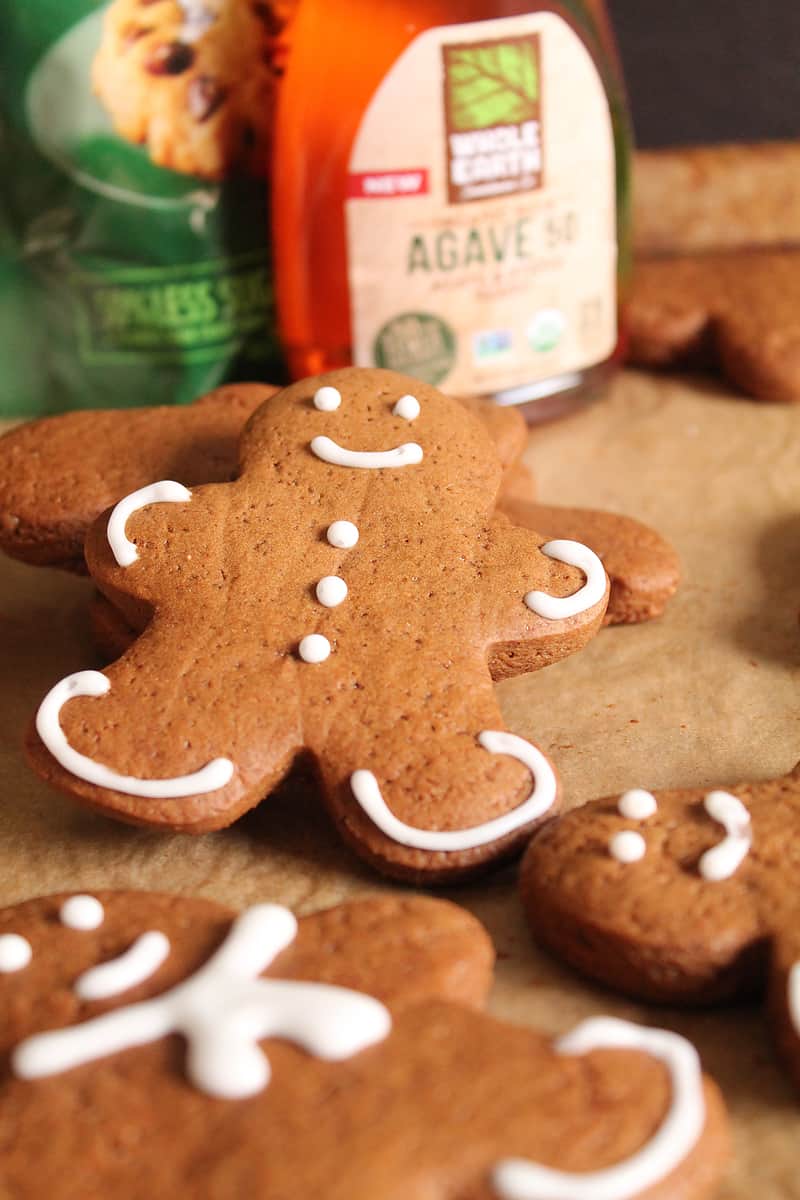 Vegan Gingerbread Cookies
Ingredients
Gingerbread Cookies
3

cups

all-purpose flour

1

teaspoon

baking powder

3/4

teaspoon

baking soda

1/4

teaspoon

salt

1

tablespoon

ground ginger

2

teaspoon

ground cinnamon

1/4

teaspoon

ground cloves

1/8

teaspoon

nutmeg

1/8

teaspoon

allspice

1/2

cup

vegan butter

1/4

cup

blackstrap molasses

2

tablespoons

Whole Earth Sweetener Agave 50

1/4

cup

Whole Earth Sweetener Baking Blend 50

1/4

cup

almond milk

1

teaspoon

vanilla extract
Royal Icing
1 1/2

cup

powdered sugar

1-2

tablespoons

almond milk
Instructions
In a small bowl stir together flour, baking powder and soda, salt, and spices. Set aside.

In a stand-up mixer beat vegan butter with molasses, Agave 50, and Whole Earth Sweetener Baking Blend, scraping down the sides as necessary. Add vanilla extract and beat to combine.

Alternating between dry and wet, add flour and almond milk to batter in 3 batches, scraping down the sides in between.

Transfer the dough to a piece of parchment paper, top with another paper and roll out to about 1/4"" thick. Refrigerate for 4 hours or freeze for 1 hour.

Preheat the oven to 400 degrees F. Cut out shapes from the chilled dough and place on two parchment-lined baking sheets. Bake 9-11 minutes, until browned and cooked all the way through. Allow cookies to cool for 5 minutes on baking sheets before transferring to a wire rack to cool completely.

While cookies are cooling, mix together sugar and milk in a stand-up mixer. Once cookies are completely cool, decorate with royal icing.

Store in an airtight container for up to 4 days.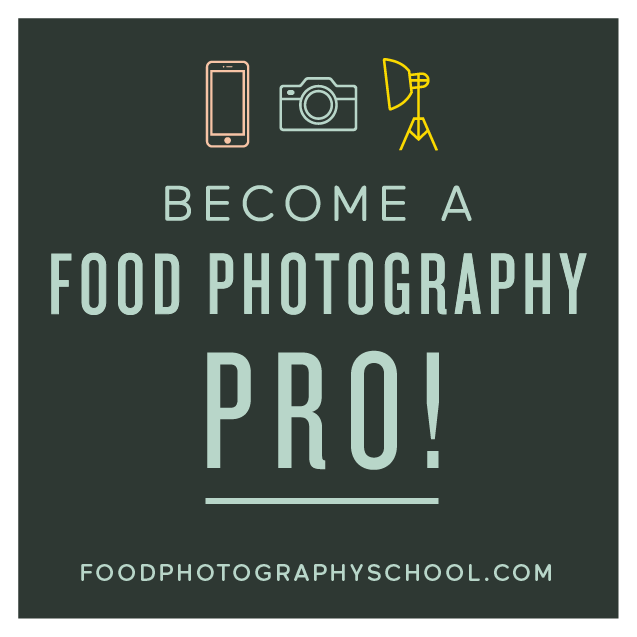 Sign up for
My Darling Vegan Newsletter
get a FREE copy of my Clean Eating Vegan ebook
Advertise Here