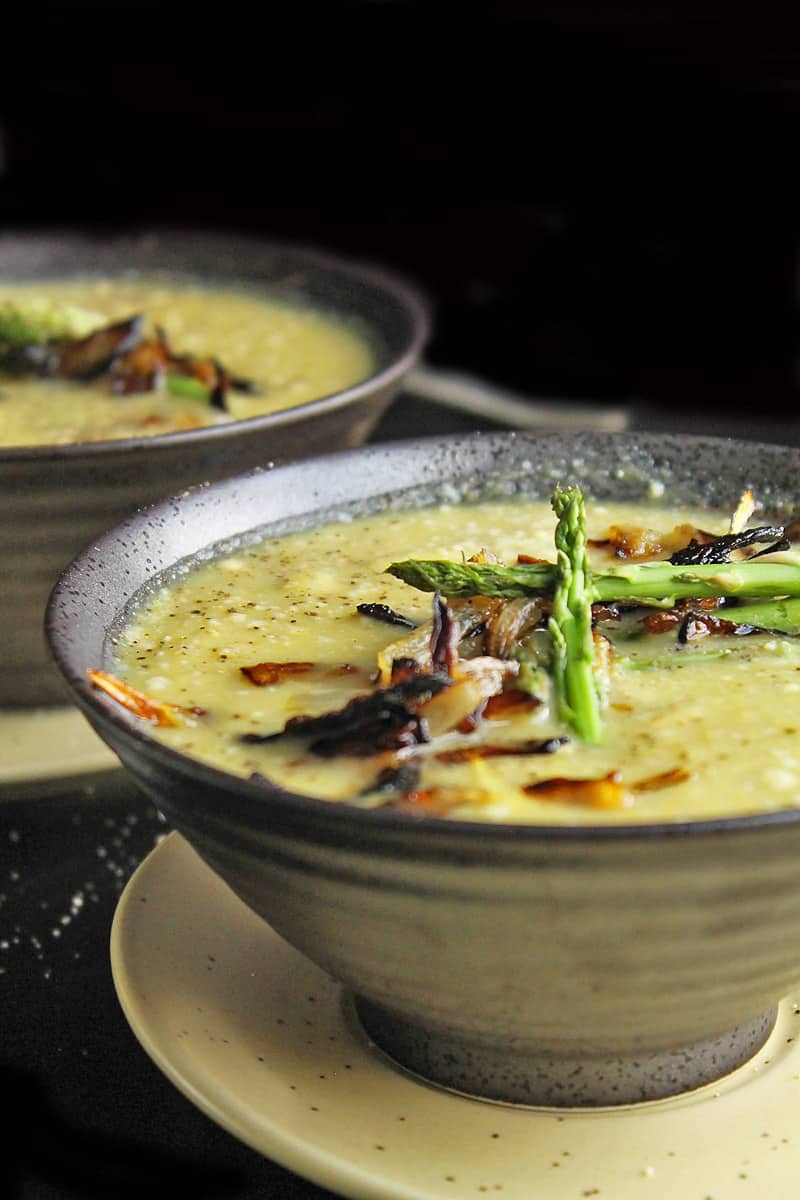 A few months back I experimented with Cauliflower Alfredo Sauce. Since then it's been cauliflower everything. What a magical vegetable, really! Sure, it has all kinds of heart-healthy, anti-inflammatory, cancer-fighting benefits. But beyond that, by having very mild flavor, it becomes a great way to create a creamy base for all kinds of recipes while sneaking in a little extra vegetables into your meals.
So when I decided to make a vegan Cream of Asparagus Soup for the blog, I knew immediately what delicious, creamy, and oh so healthy vegetable I'd be sneaking in.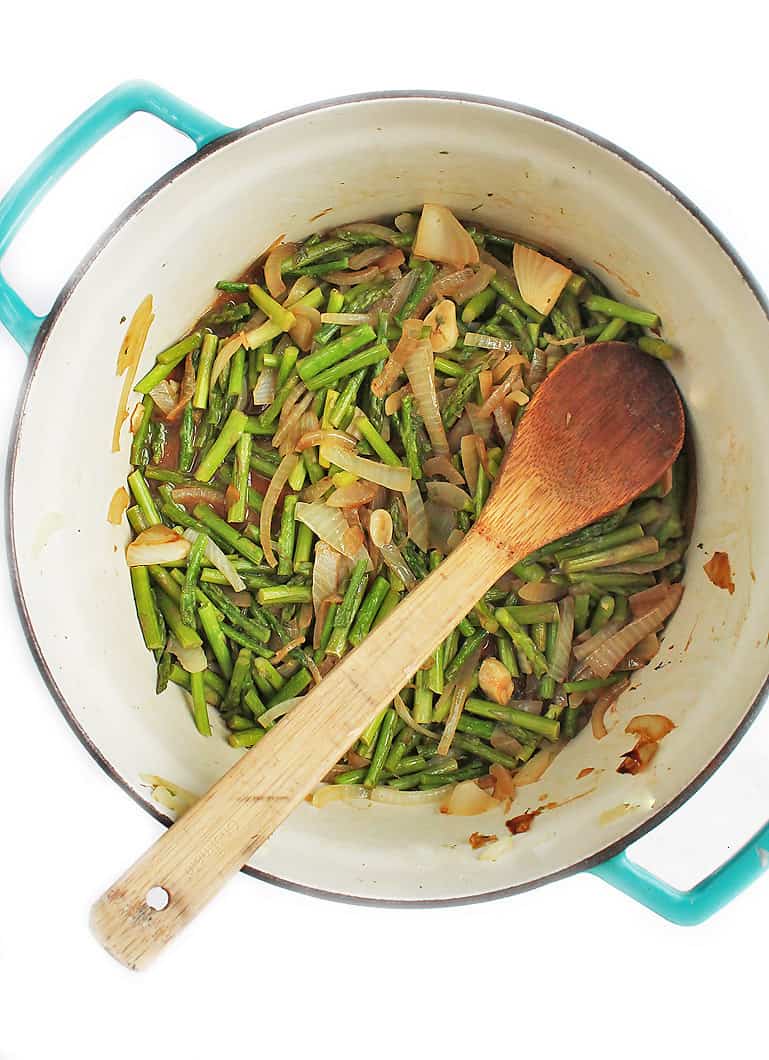 Now that the clocks have fallen back and the days feel shorter all I want to do is stay inside the comfort of my home with a fire, a warm sweater, this song, and a big bowl of soup. Summer feels so long ago and the winter months loom ahead, and right now, that is just what I want.
Ask me in a couple months, and I may have a serious case of cabin fever, but for now, this weary soul in enjoying the much-needed quiet and solitude I find on these chilly November days.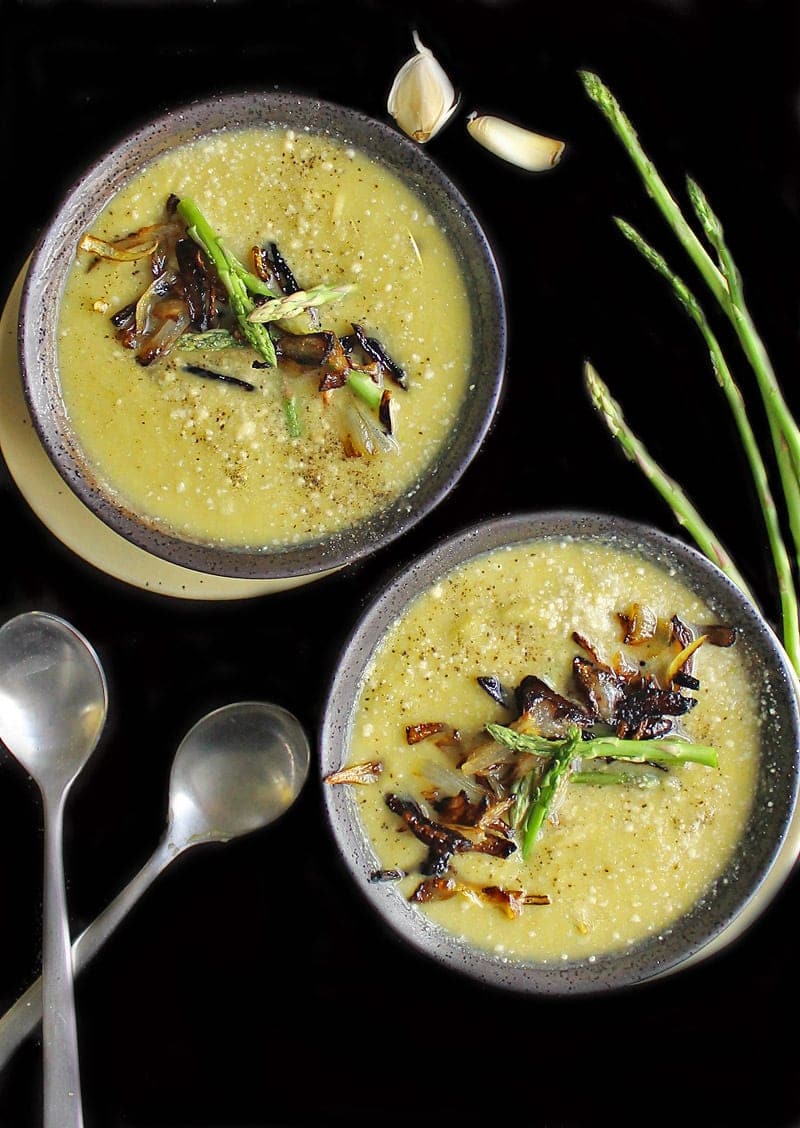 And what goes best with cozy autumn nights curled up indoors? I'm gonna go ahead and say this vegan Cream of Asparagus Soup.
This soup is everything you want from a Cream of Asparagus soup. Creamy, garlicky, peppery, and filled with the wonderful flavors of asparagus, it's one that the whole family will love and it can be throw together in under 30 minutes. Pair it with your favorite bread or salad for a quick and healthy fall meal.
Enjoy!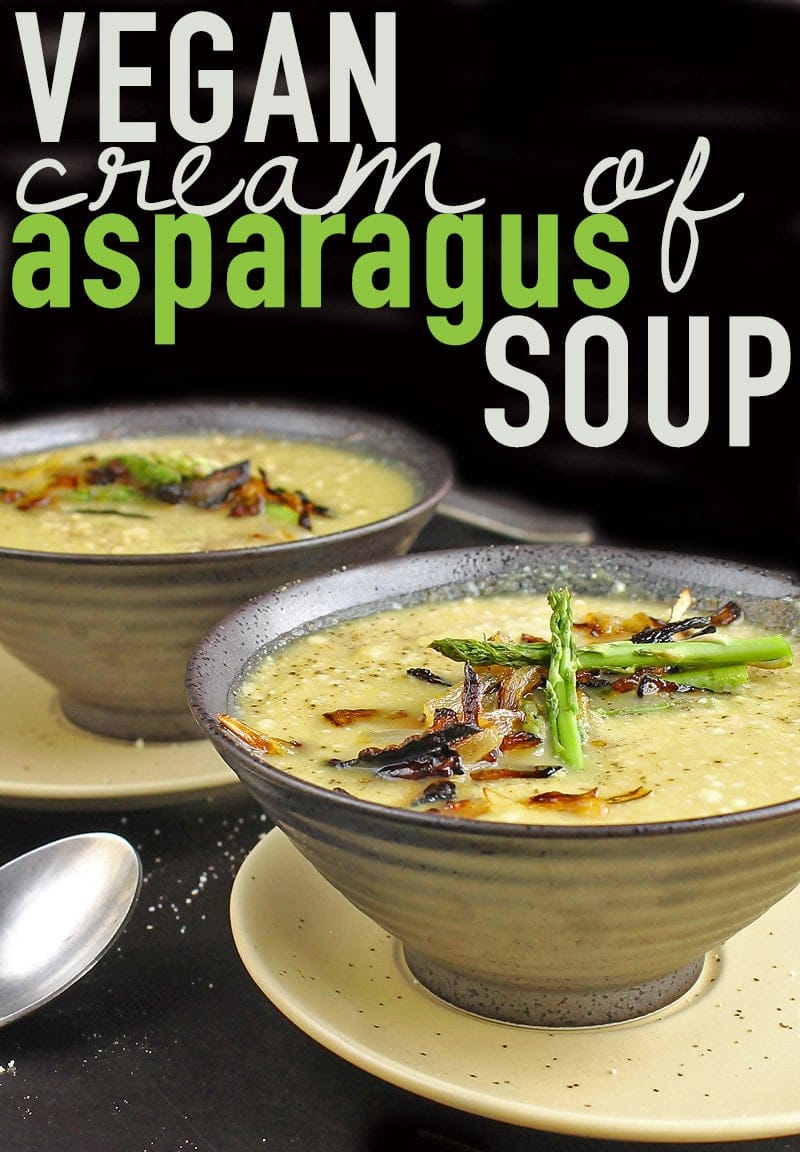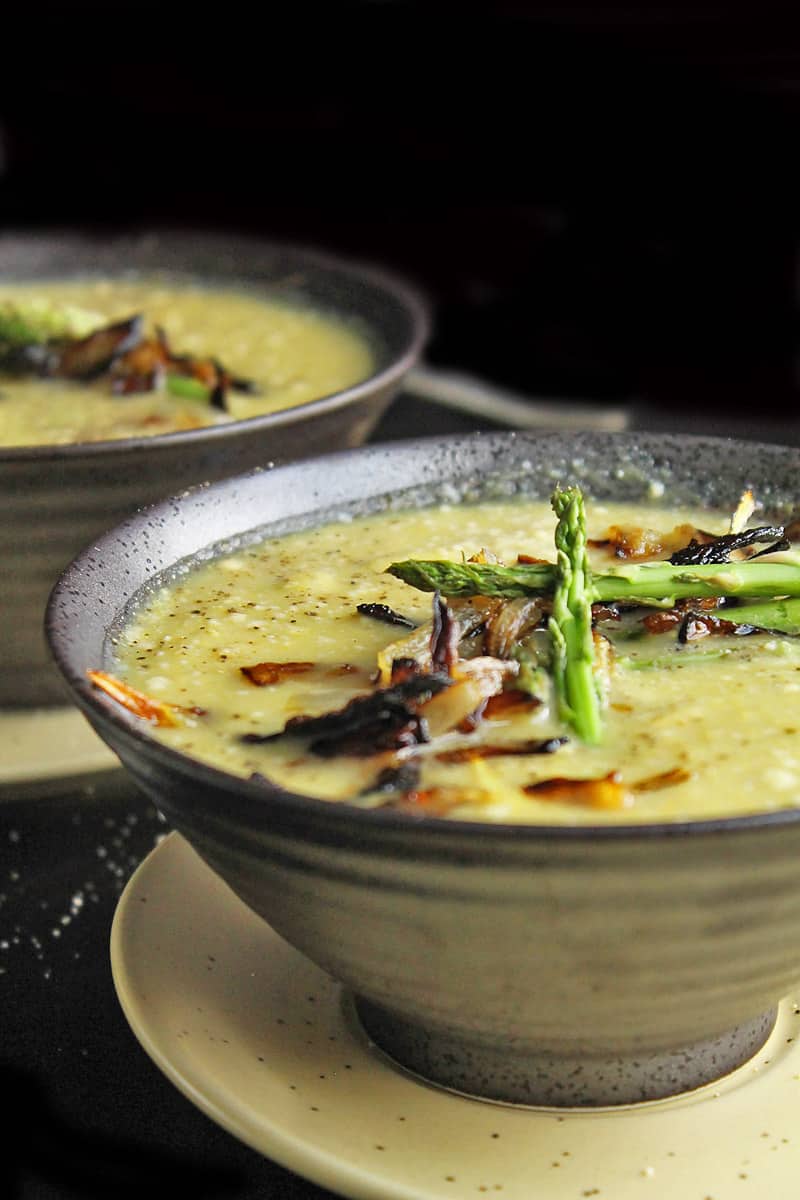 Cream of Asparagus Soup
2016-12-31 00:46:15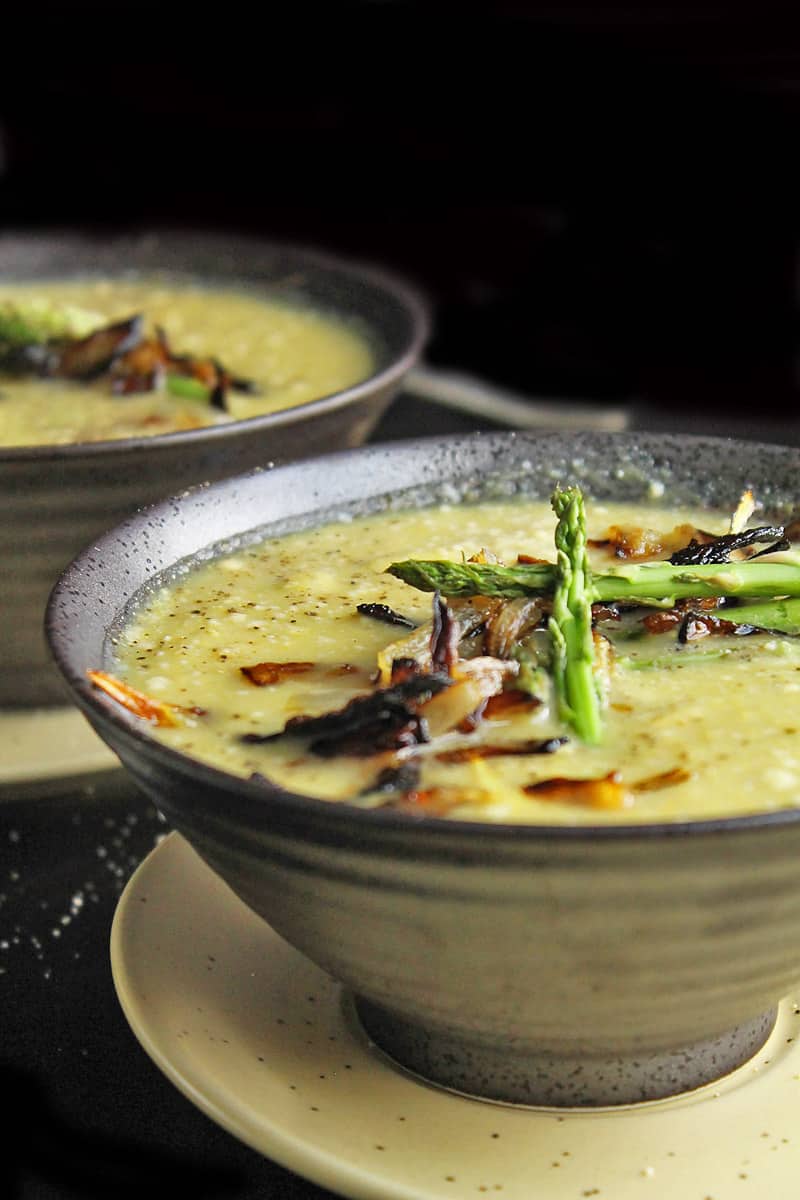 Serves 4
Cream of Asparagus Soup
1 tablespoon olive oil
1 yellow onion, thinly slicked
3-4 cloves garlic, minced
2 pounds asparagus, ends trimmed and chopped
1/2 head medium cauliflower
6 cups vegetable broth
1 juice of lemon
1/2 cup nutritional yeast
salt and pepper, to taste
Optional Toppings
vegan parmesan cheese
caramelized onions
fresh asparagus
freshly ground pepper
Instructions
Heat oil in a large stock pot over medium-hight heat. Stir in onions and garlic and cook until onions are translucent, about 7 minutes.
Add asparagus, cauliflower, and vegetable broth. Bring to a boil, then reduce heat to a simmer. Simmer for about 10 minutes, until asparagus and cauliflower are tender.
Transfer soup to a blender (this may have to be done in batches) and blend until smooth. Return to heat and stir in lemon juice, nutritional yeast, and salt and pepper.
Serve with desired toppings.
My Darling Vegan https://www.mydarlingvegan.com/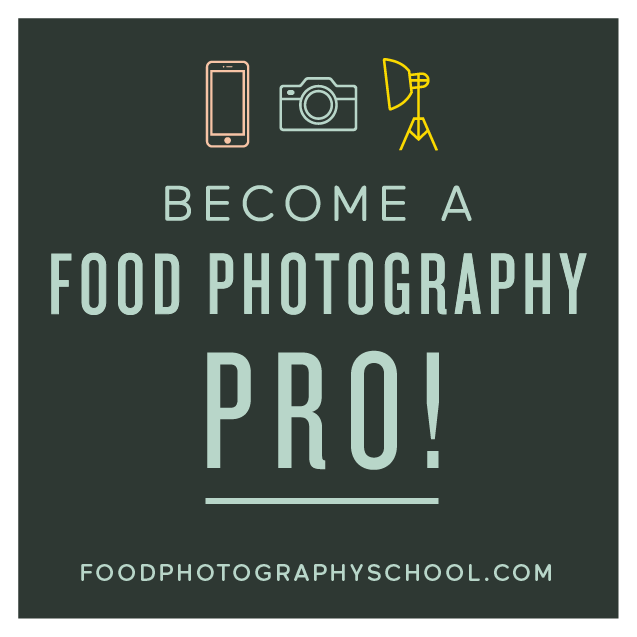 Sign up for
My Darling Vegan Newsletter
get a FREE copy of my Clean Eating Vegan ebook
Advertise Here