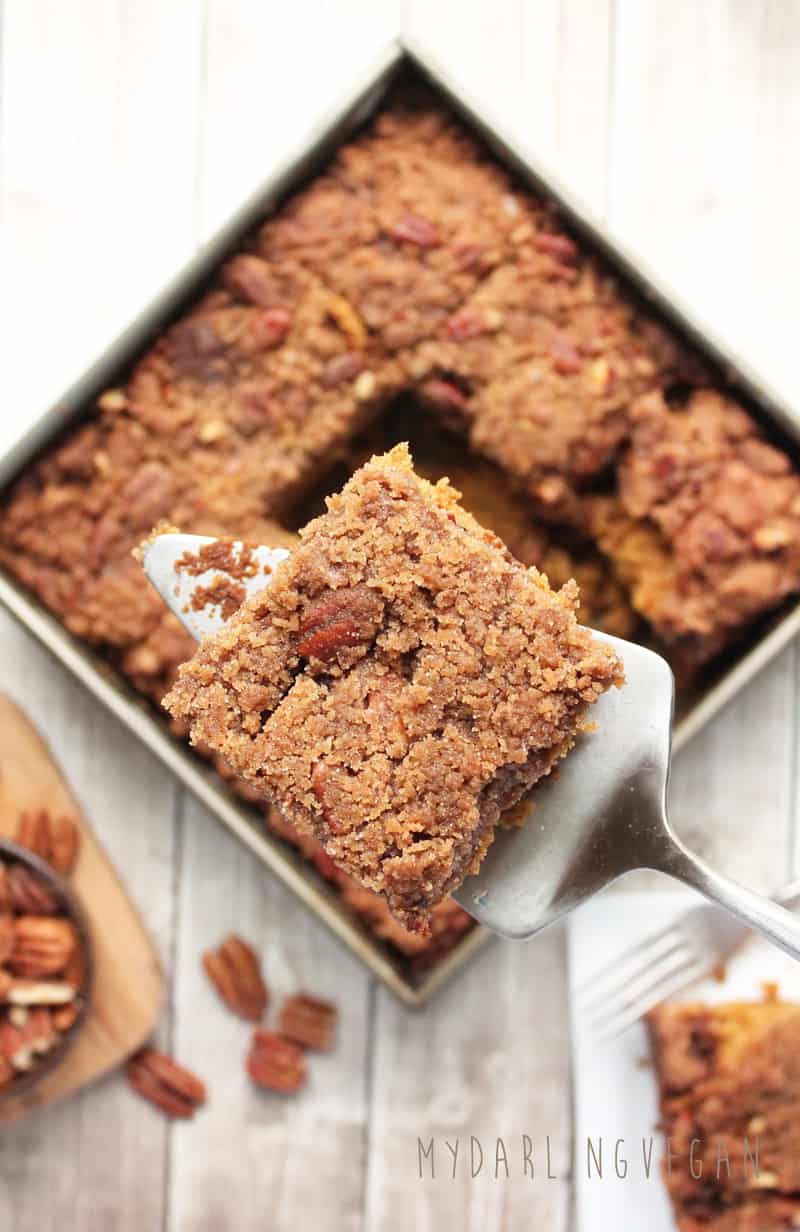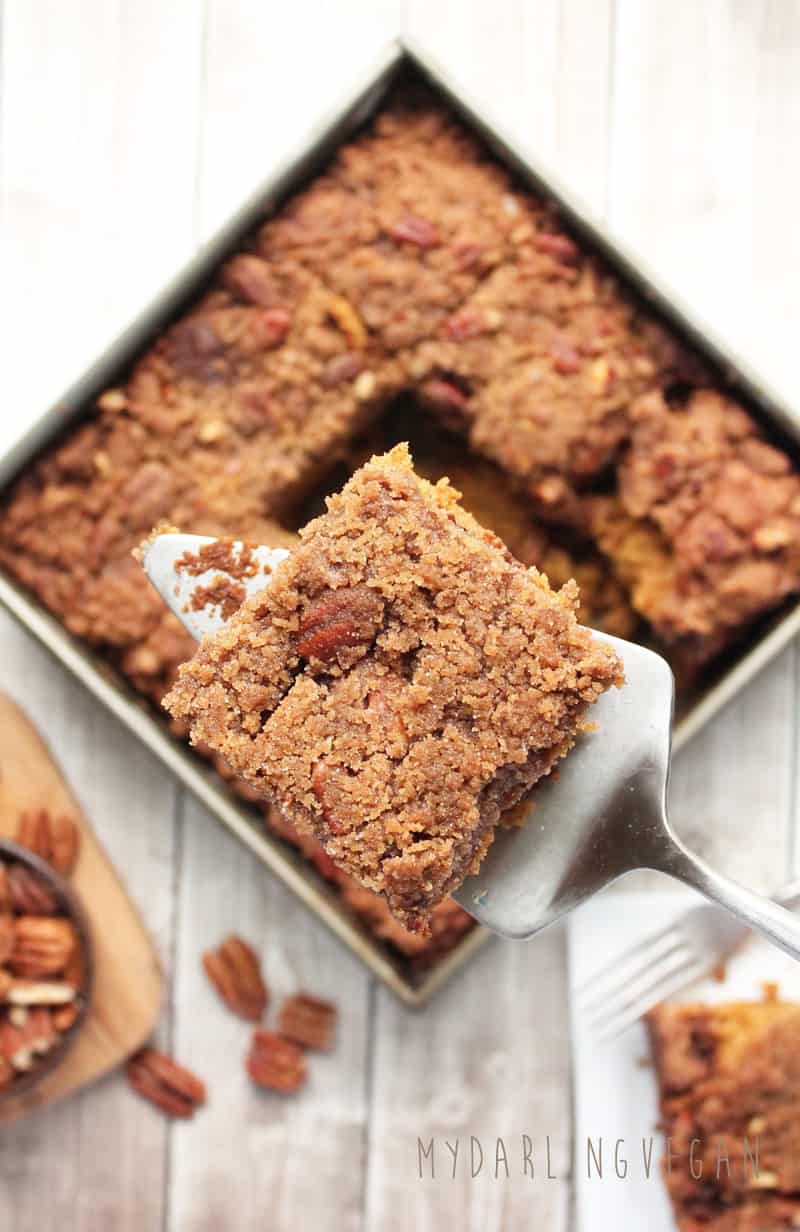 Getting out of a warm bed on a chilly October day is never easy. But this vegan pumpkin coffee cake might make it a little bit easier.
Imagine sipping a steaming hot cup of rich black coffee…sounds pretty good, right? Now, next to the coffee is a plate with a warm, soft, and perfectly moist piece of pumpkin coffee cake…um, yummm. On top of the coffee cake is a sweet and crunchy cinnamon pecan streusel and sitting next to the plate is a fork. Your fork.
Are you ready to get out of bed now?
Yes, the answer is yes.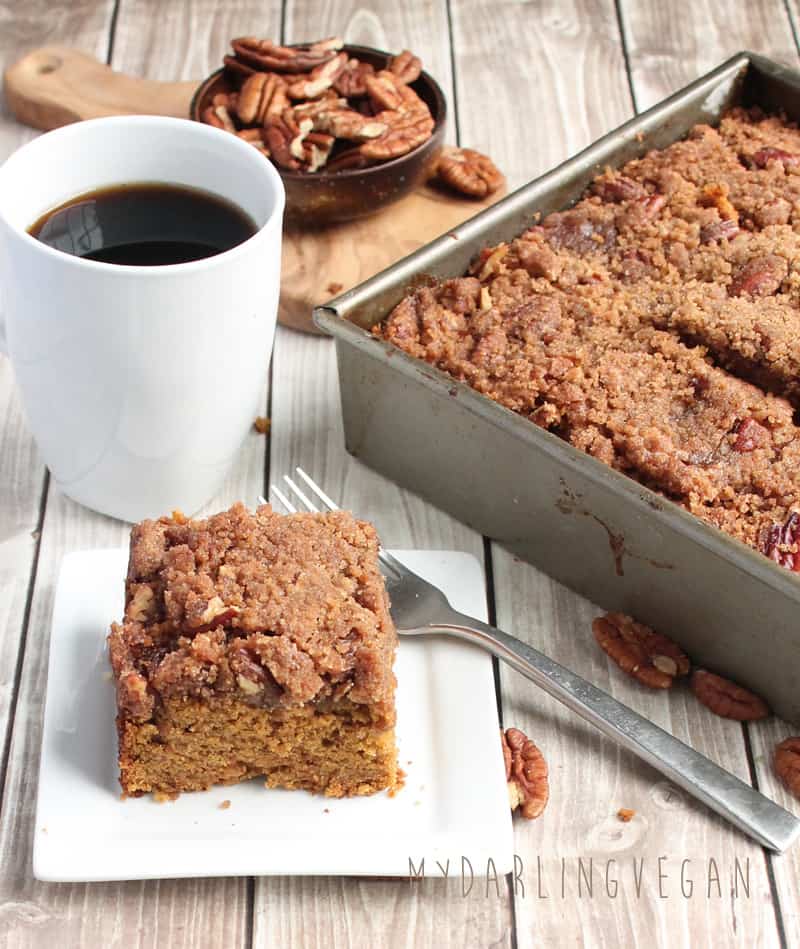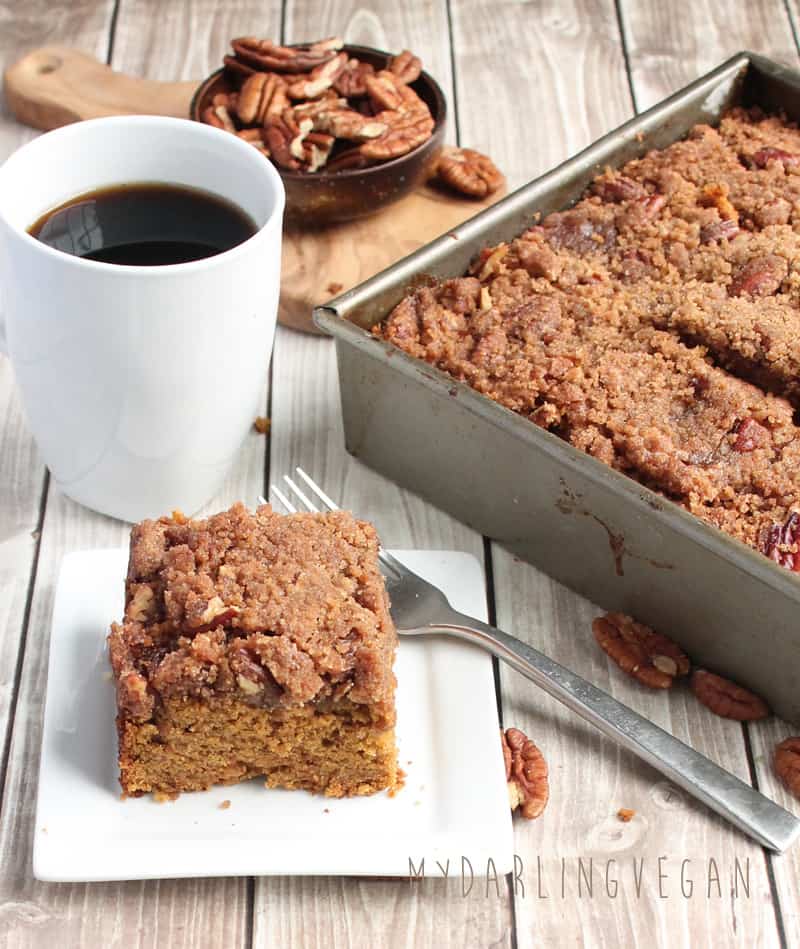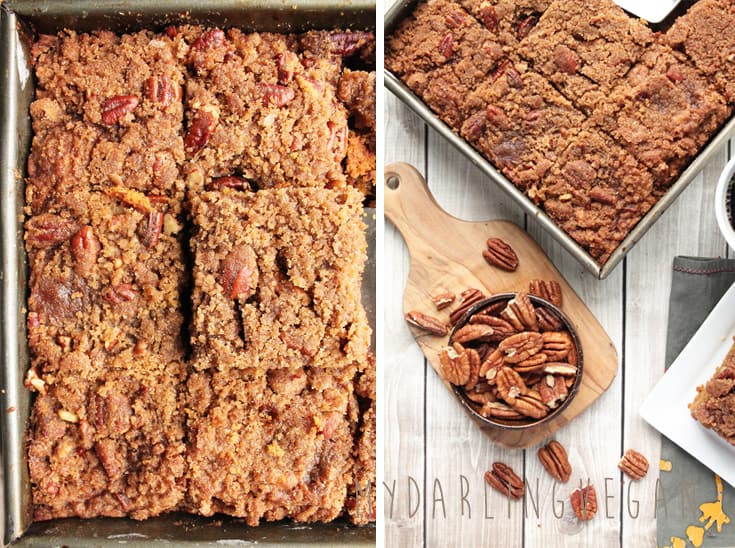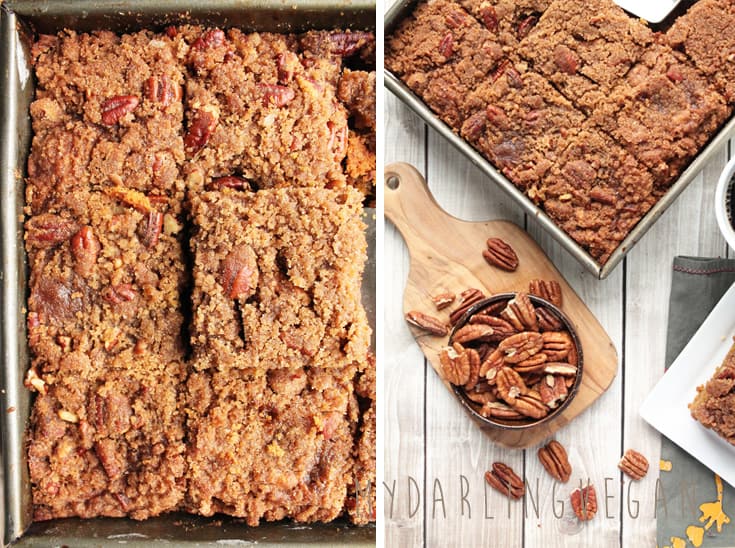 Growing up, my family had a Sunday morning breakfast tradition of homemade coffee cake. It was paired with the Sunday morning tradition of rushing around in a panic while our family of five (which included three pre-teen and teenage girls) got ready for the early service at church. Several snooze buttons, many feigned illnesses, and too many sisters wanting to use the bathroom later, we would sit down to my mom's breakfast of homemade coffee cake with general grumpiness and stress, scarfing down our breakfast while we raced against the clock.
It's not that surprising, then, that I didn't associate coffee cake with the fondest memories, which was eaten always and only on these Sunday mornings of my childhood, and for that reason I grew into adulthood without an appreciation for it.
I felt this way for many years until I eventually tried it again as a vegan. I'm not sure if was the setting, my grown-up taste buds, or just the simple truth that vegan versions are always better, but when I did try coffee cake again I was amazed by the flavors and textures of this simple, yet decadent, breakfast treat.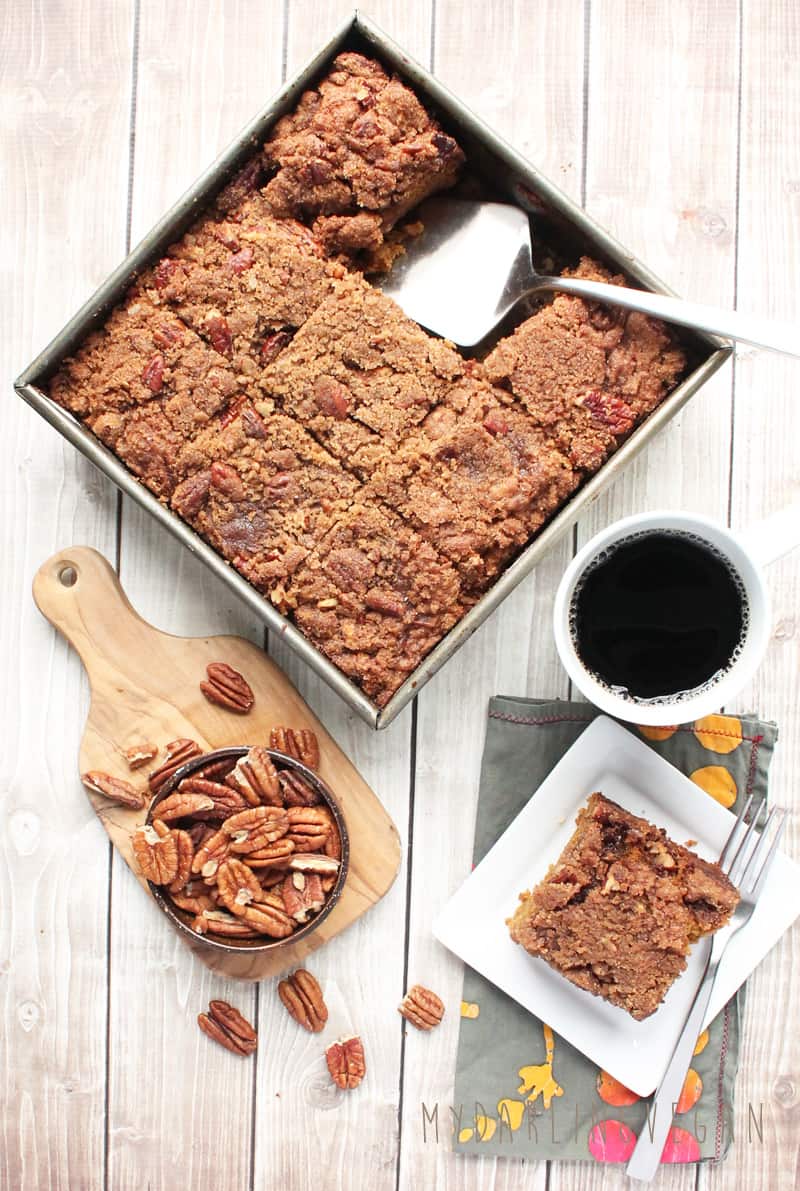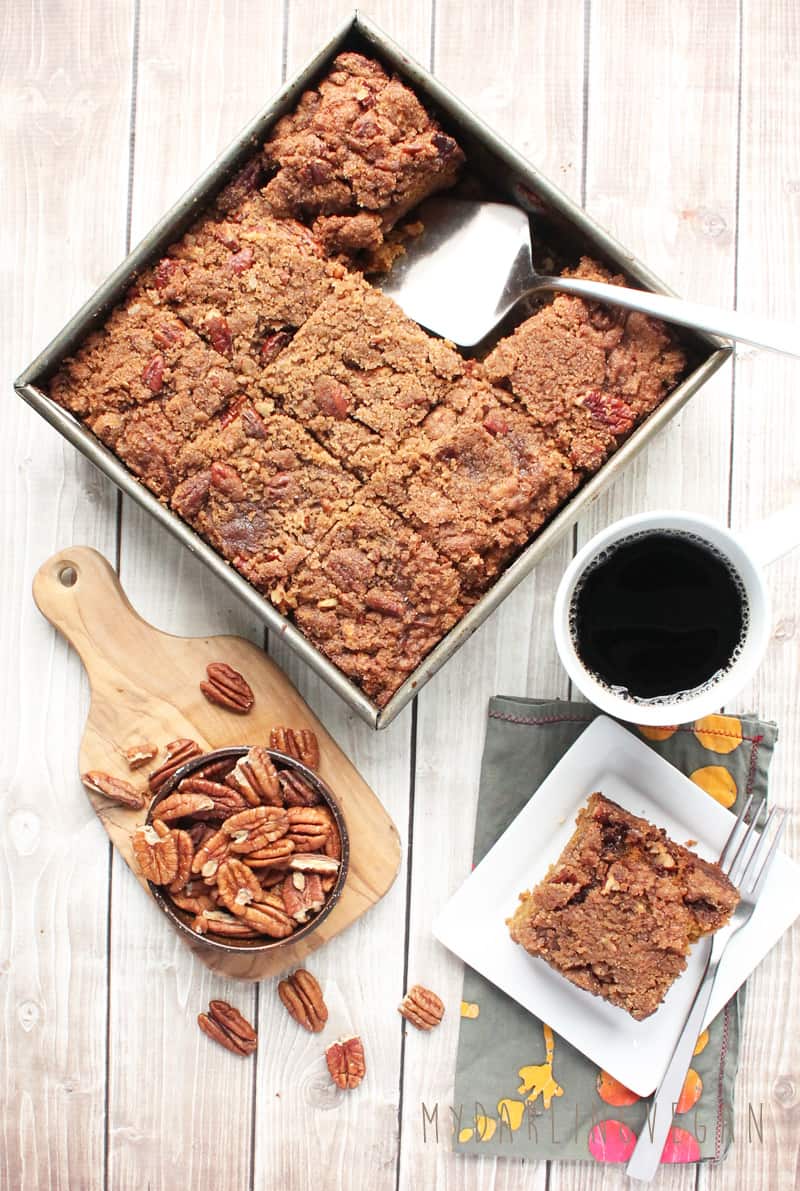 This recipe is a autumnal twist on a classic coffee cake recipe. It can be thrown together in 20 minutes with ingredients you likely have on hand. So what are you waiting for? Let's brew some coffee and get baking this vegan pumpkin coffee cake!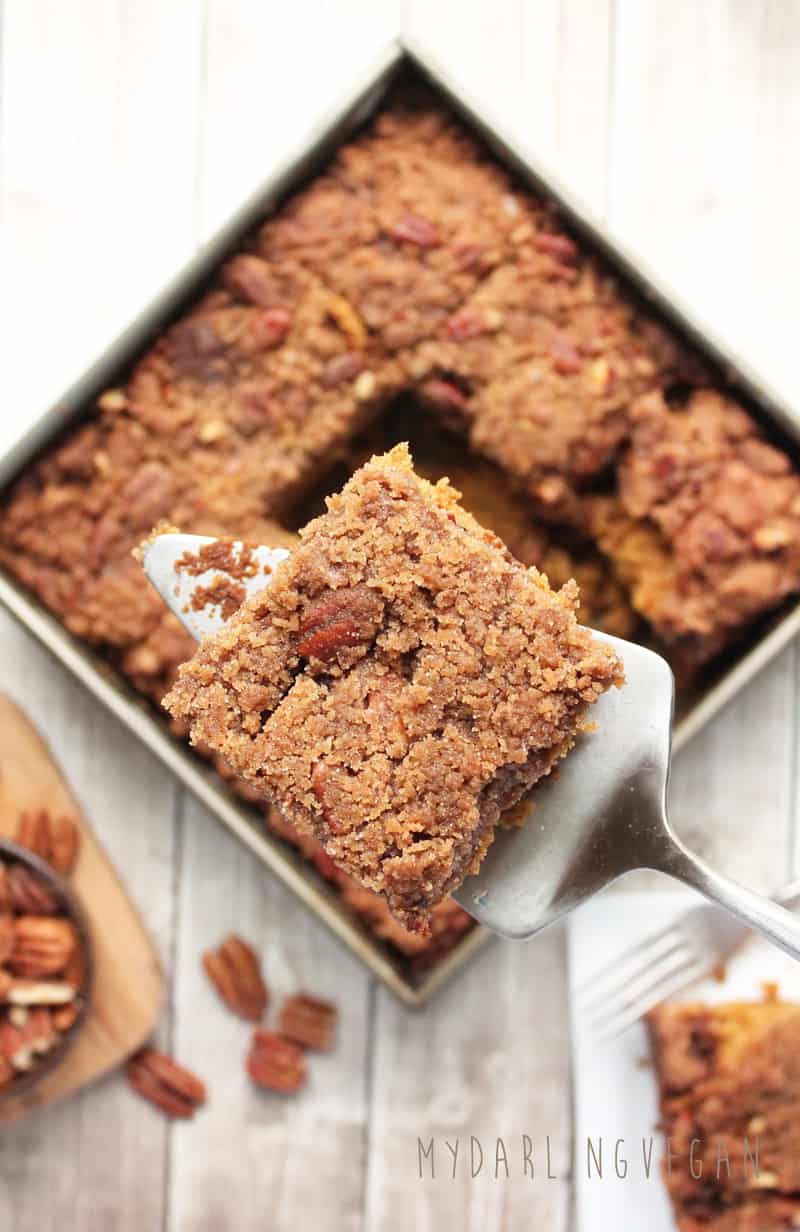 Vegan Pumpkin Coffee Cake
2016-09-26 18:16:24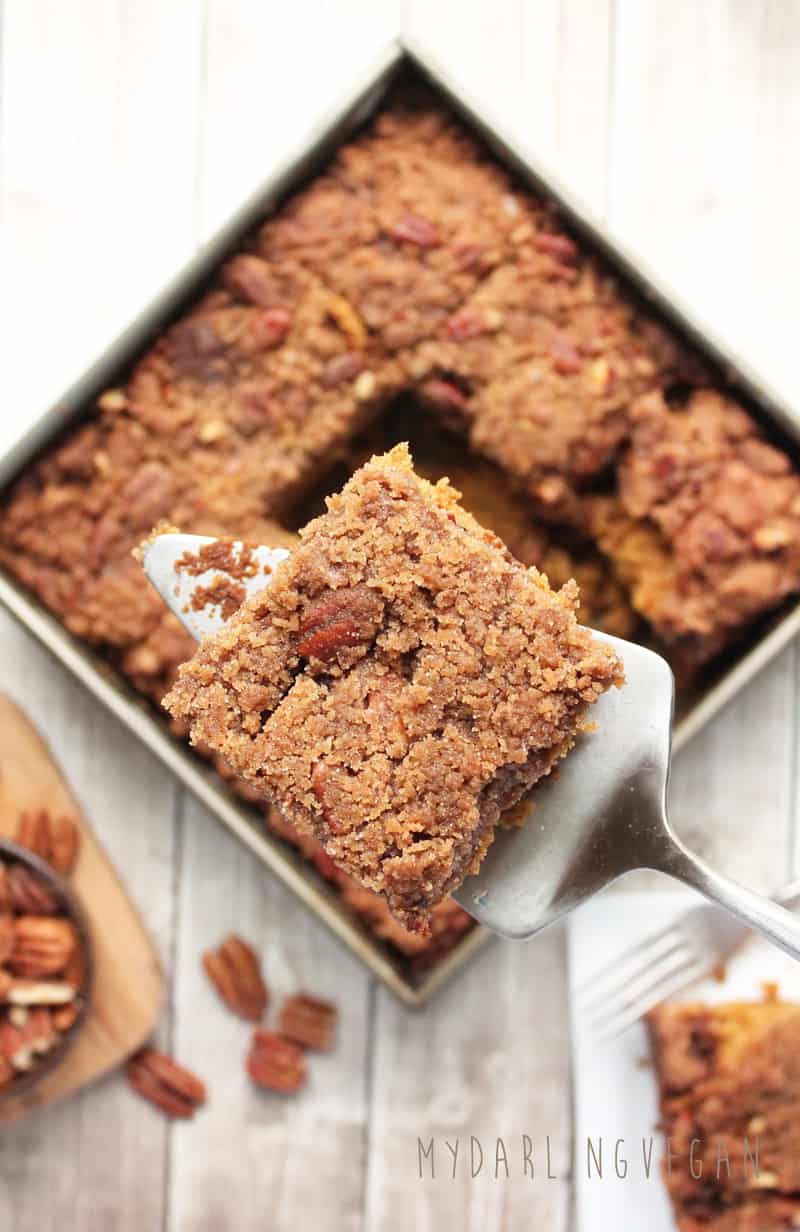 Serves 9
Pecan Streusel
6 tablespoons all-purpose flour
1/2 cup brown sugar
1/4 cup white sugar
3/4 cup chopped pecans
1/2 teaspoon cinnamon
3 tablespoons butter, cut into small pieces
Pumpkin Coffee Cake
8 tablespoons (1 stick) vegan butter (I use Earth Balance)
1 cup brown sugar
1 cup pumpkin puree
1/2 cup apple sauce
1 teaspoon vanilla extract
1 3/4 cup all-purpose flour
2 teaspoons baking powder
1/2 teaspoon baking soda
1/2 teaspoon salt
1 teaspoon cinnamon
1 teaspoon allspice
1/8 teaspoon cloves
1/8 teaspoon nutmeg
Instructions
Preheat the oven to 350. Oil and flour a 8x8 baking pan and set aside.
To make the streusel combine the flour, sugars, pecans, and cinnamon in a large bowl. Cut in pieces of the vegan butter and break it apart with your fingers until the streusel is clumped into small pea-size pieces. Set aside.
To make the coffee cake
In a stand up mixer, cream together vegan butter and brown and white sugar. With mixer on, add pumpkin, apple sauce, and vanilla, scraping down the sides of bowl as needed. The batter will curdle at this point; don't worry, it will come back together.
In a small bowl mix together flour, baking powder and soda, and spice. With mixer on low speed, add flour mixture to butter/sugar mixture in 3 batches, stopping to scrap down the sides of the mixture in between. Blend until just combined.
Pour the batter into the prepared 8x8 baking pan, top with streusel, pressing down lightly, and bake for 45-50 minutes or until a knife inserted in the middle comes out clean.
Remove from oven and let cool for 20 minutes before cutting and serving.
My Darling Vegan https://www.mydarlingvegan.com/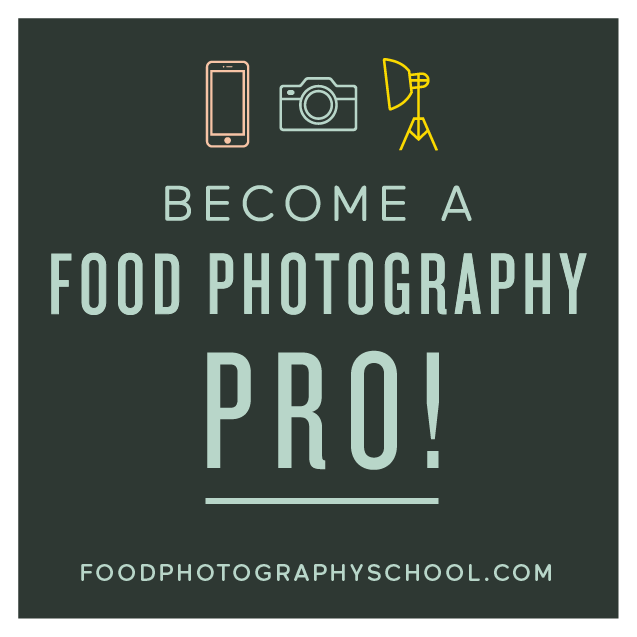 Sign up for
My Darling Vegan Newsletter
get a FREE copy of my Clean Eating Vegan ebook
Advertise Here