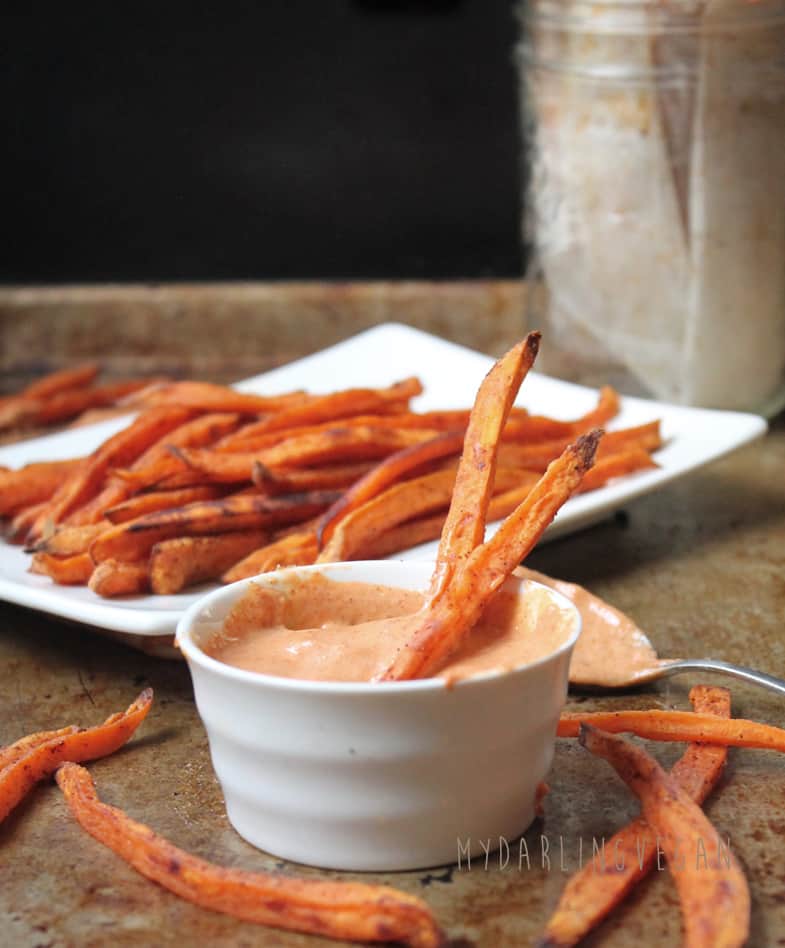 If you live on the west coast and are familiar with Veggie Grill then I imagine you are also familiar with their Sweetheart Fries. These particular sweet potato fries (and their chipotle ranch counterpart) are possibly one (or is it two?) of the best thing(s) I've ever eaten. But, as delicious as Veggie Grill is (and for those of you who don't know, it's REALLY delicious), it's also pretty pricey and so sadly, enjoying those Sweetheart Fries is a pretty rare thing indeed.
Until now.
Today I bring you Copycat(ish) Baked Sweet Potato Fries with Sriracha Aioli Sauce. And friends, these might now be the best thing I've ever eaten.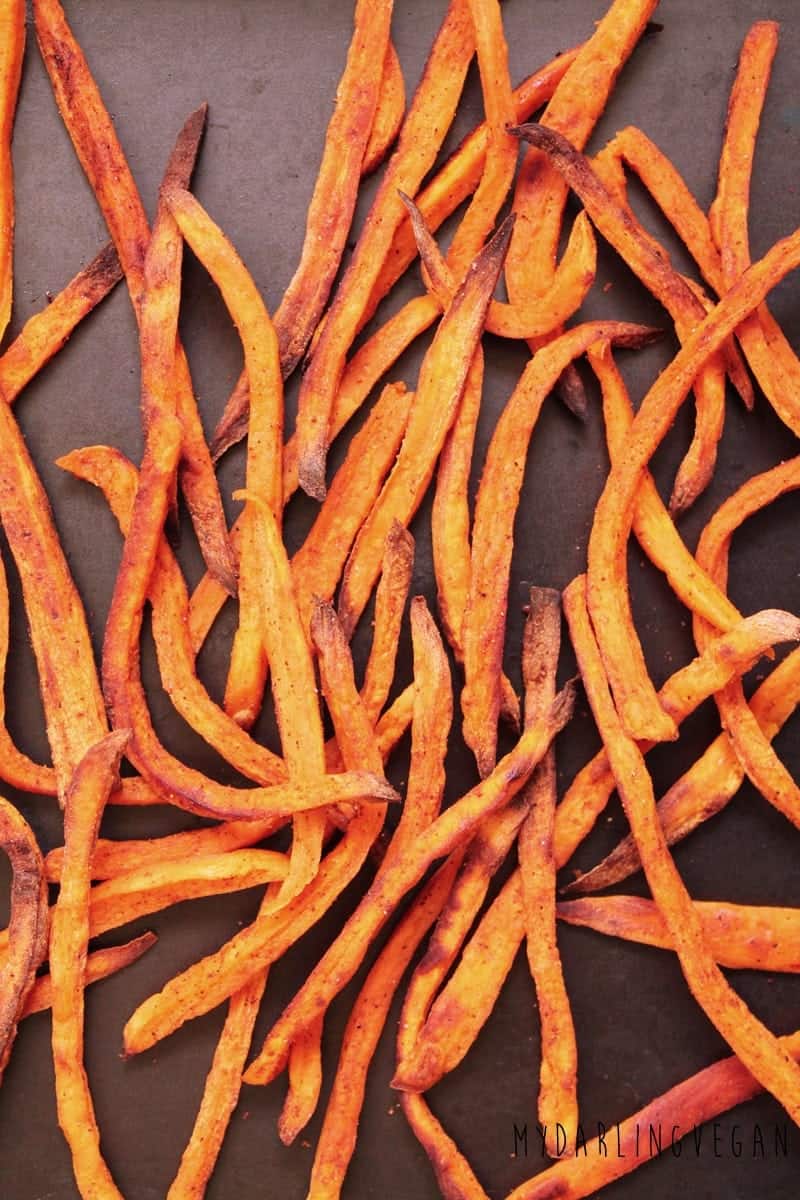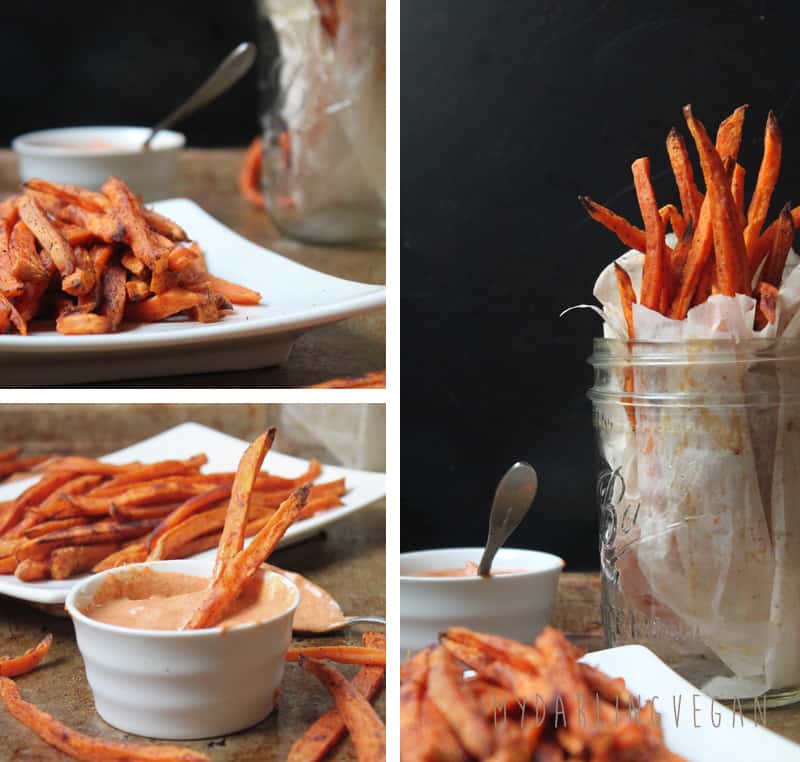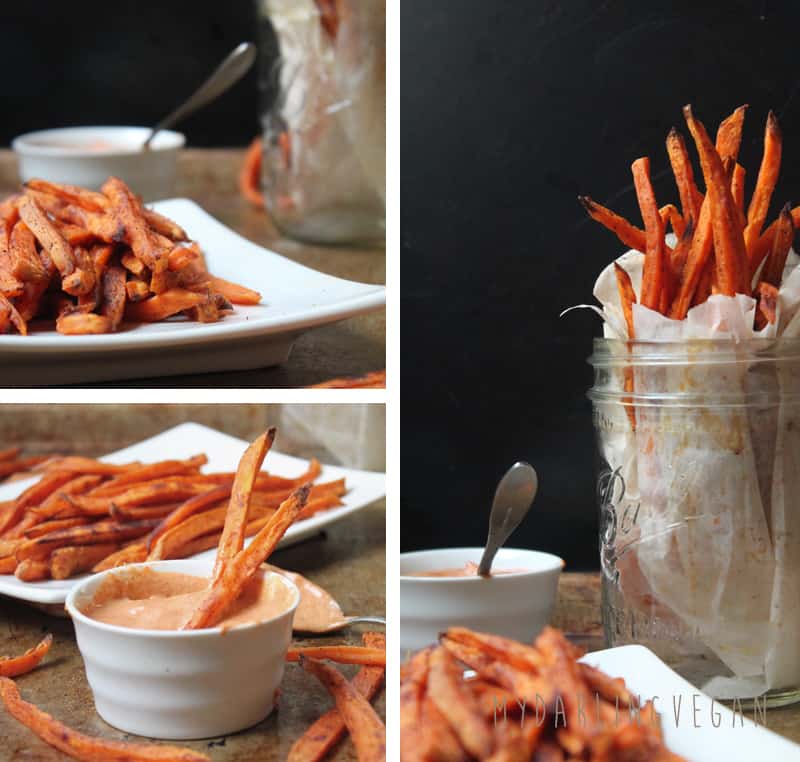 I still remember the first time I tried baked sweet potato fries. It was my 21st birthday and I was visiting my sister in Missoula, Montana. Earlier that day we had gone out to a brewery where I had my first (legal) beers. After a couple hours my sister, being the wise older sibling that she is, decided that it would be smart to get some food. She suggested a nearby restaurant that had, "the most amazing sweet potato fries that I just had to try."
At the time I had never even heard of sweet potato fries. Hey, I was 21 year old college student who have spent the last 10 years living in midwest suburbs. Not to mention this was the early 2000s. We didn't know much about anything back then. However, my first thought when hearing sweet potato fries were a thing was, "gross" and my second thought was, "what's wrong with fries the way they are?" I tried to refuse but my sister insisted.
There's not a lot I remember about my 21st birthday, but I do remember those fries. They might have been the best thing I've ever eaten (this phrase might be losing meaning…). After finishing off the first order, we order another and from that moment on, I was hooked on sweet potato fries.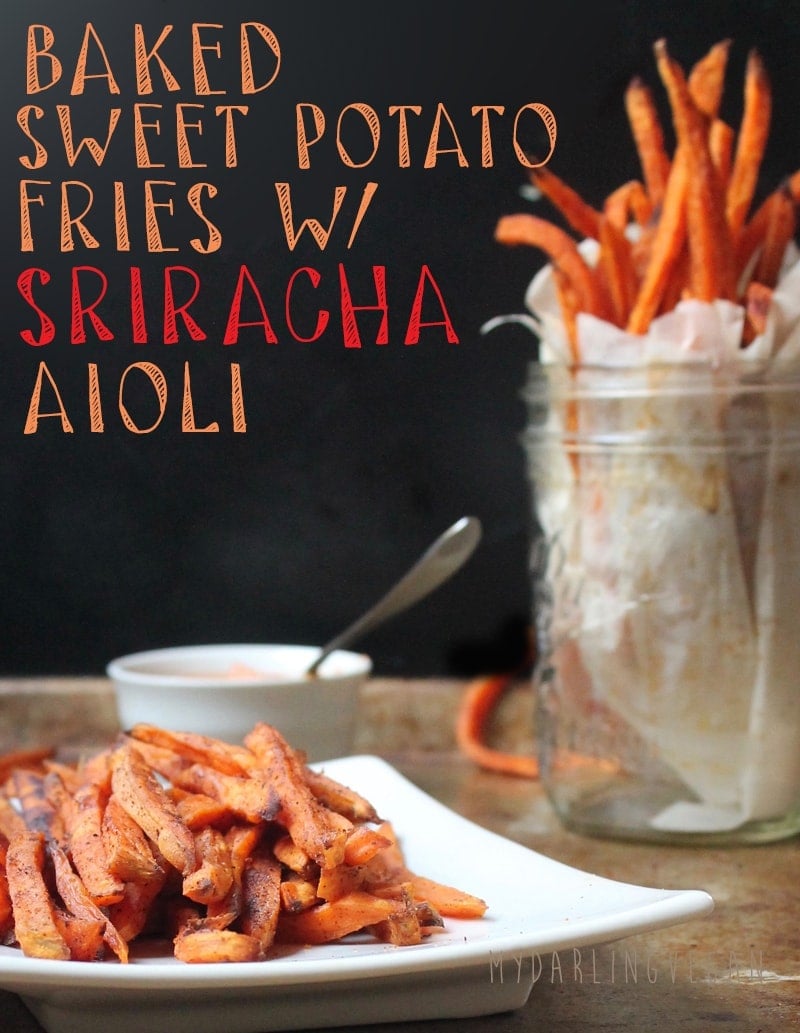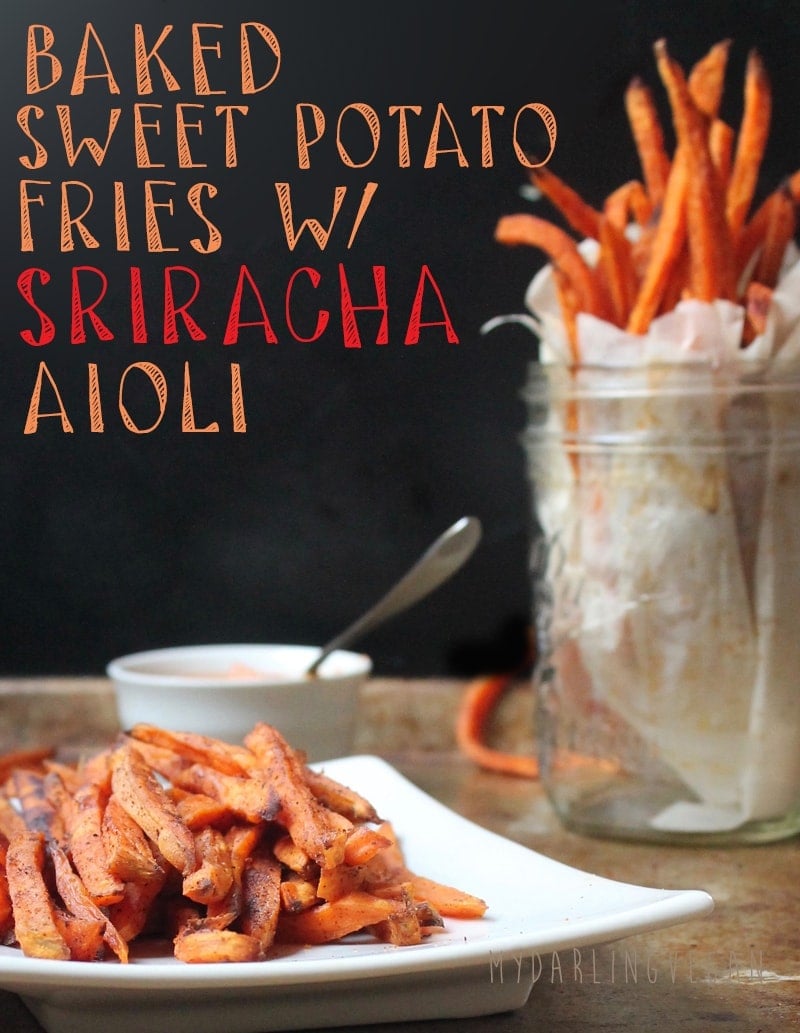 This version of baked Sweet Potato Fries are sweet, crispy, and seasoned to perfection. Paired with the Sriracha Aioli, you've got yourself the perfect October snack.
So, what are you waiting for? Let's preheat the oven and start peeling some potatoes!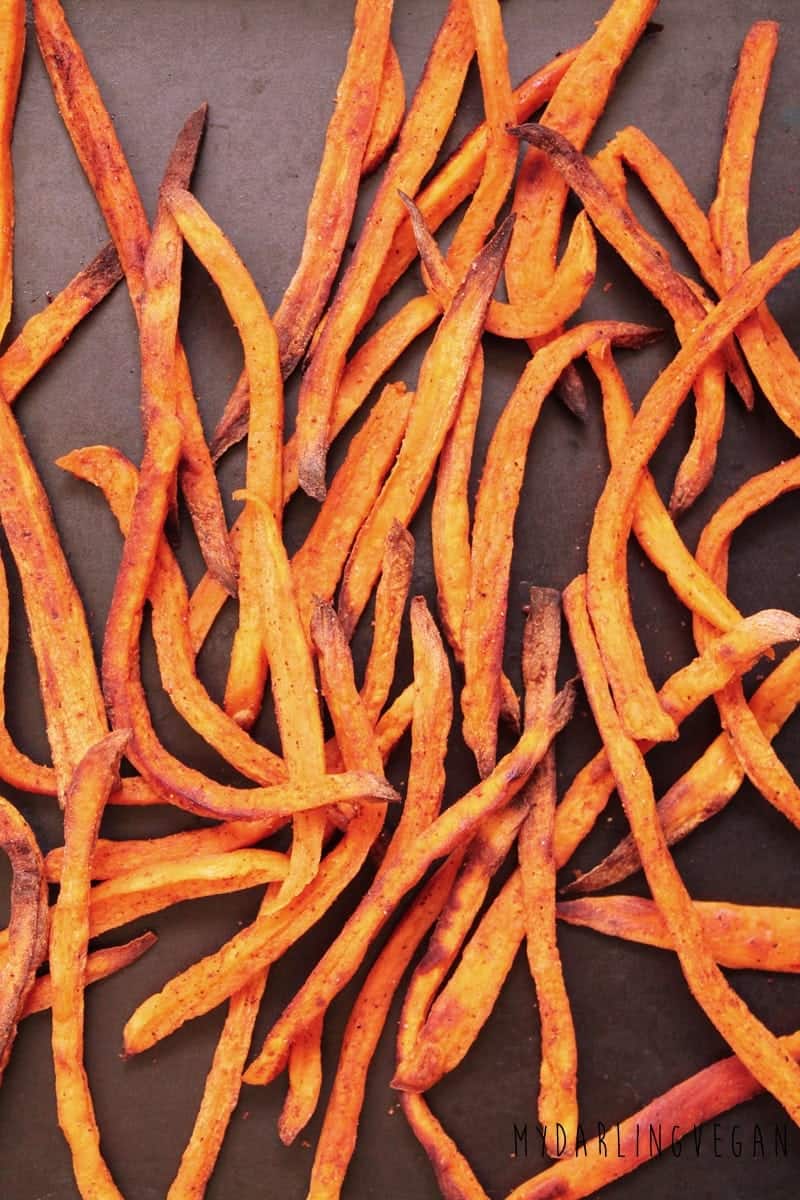 Baked Sweet Potato Fries with Sriracha Aioli
2016-10-01 00:40:35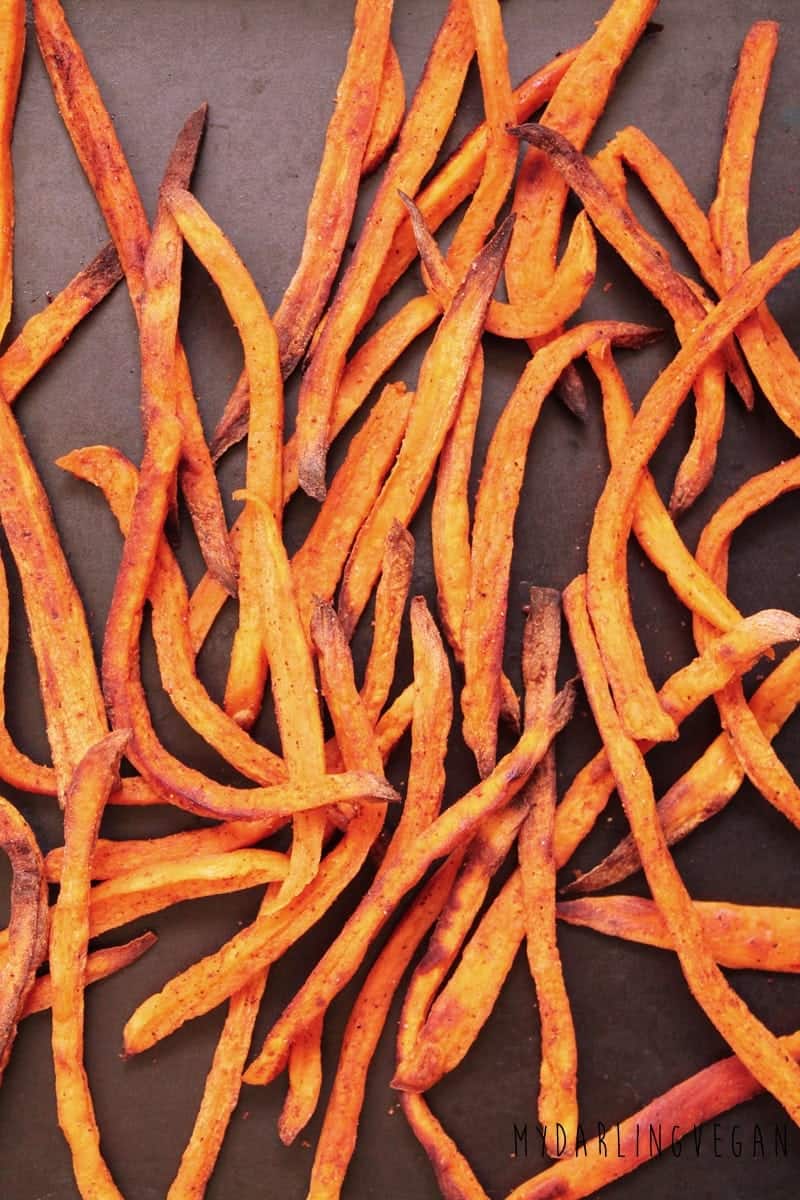 Sweet Potato Fries
4 small sweet potatoes, peeled
2 tablespoons coconut oil, melted
1/2 teaspoon salt
1/2 teaspoon paprika
1/4 black pepper
1/4 garlic powder
Sriracha Aioli
1/4 cup vegan mayonnaise
1 teaspoon Sriracha sauce
1/2 teaspoon garlic powder
1/2 teaspoon paprika
juice from 1/2 of a lemon
To make the fries
Preheat the oven to 450 degrees F. Line two baking sheets with parchment paper and set aside.
Cut sweet potatoes into matchsticks between 1/4" and 1/2" thick. Place in big bowl or large ziplock bag. Add the oil and spices and mix until potatoes are well coated.
Spread onto the baking sheets in a single layer, fries should not touch one another.
Bake for 30 minutes, flipping half way through. Remove from oven and let cool for a few minutes.
To make the Sriracha Aioli
Whisk together all the ingredients. Refrigerate until ready to use.
My Darling Vegan https://www.mydarlingvegan.com/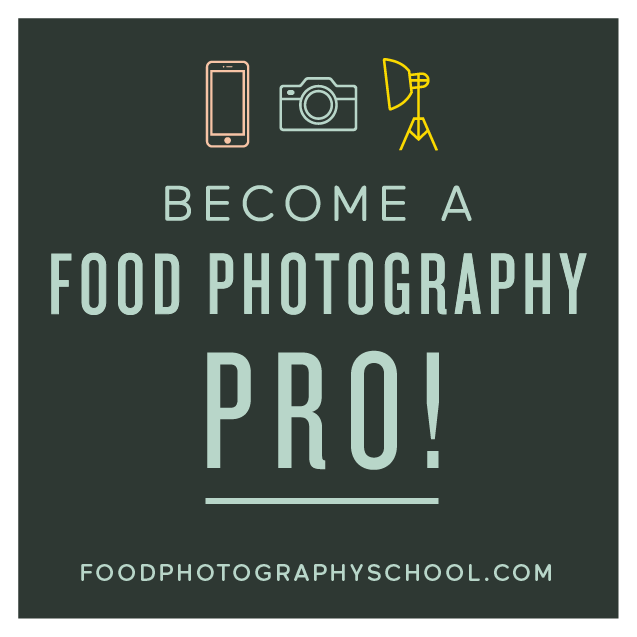 Sign up for
My Darling Vegan Newsletter
get a FREE copy of my Clean Eating Vegan ebook
Advertise Here