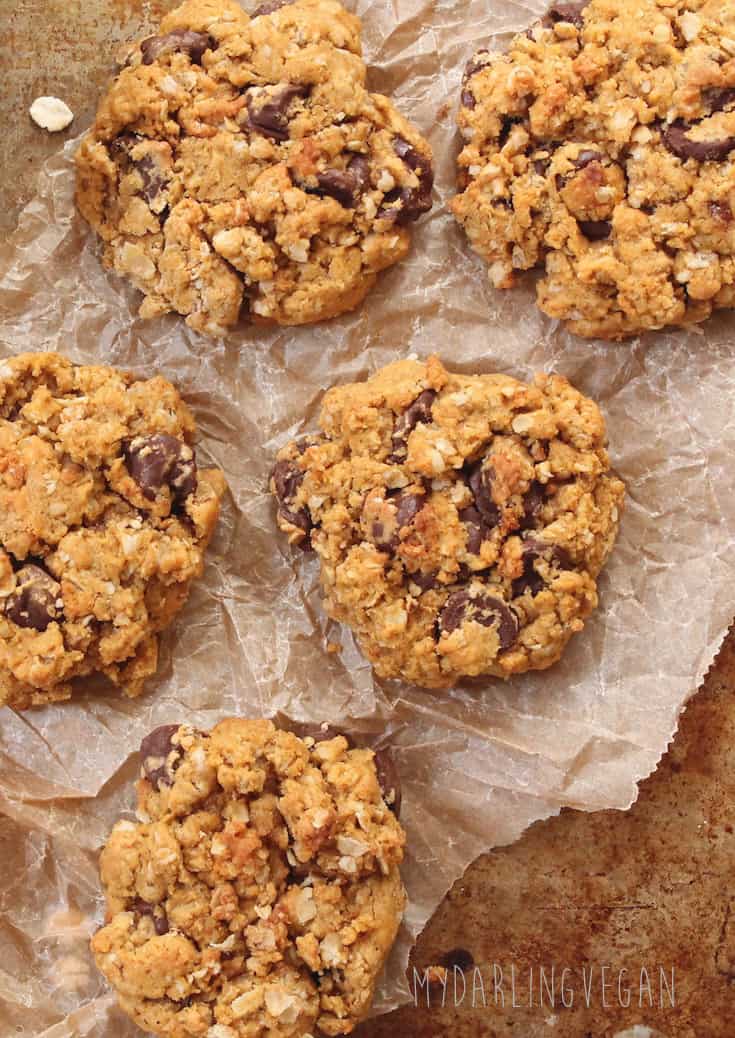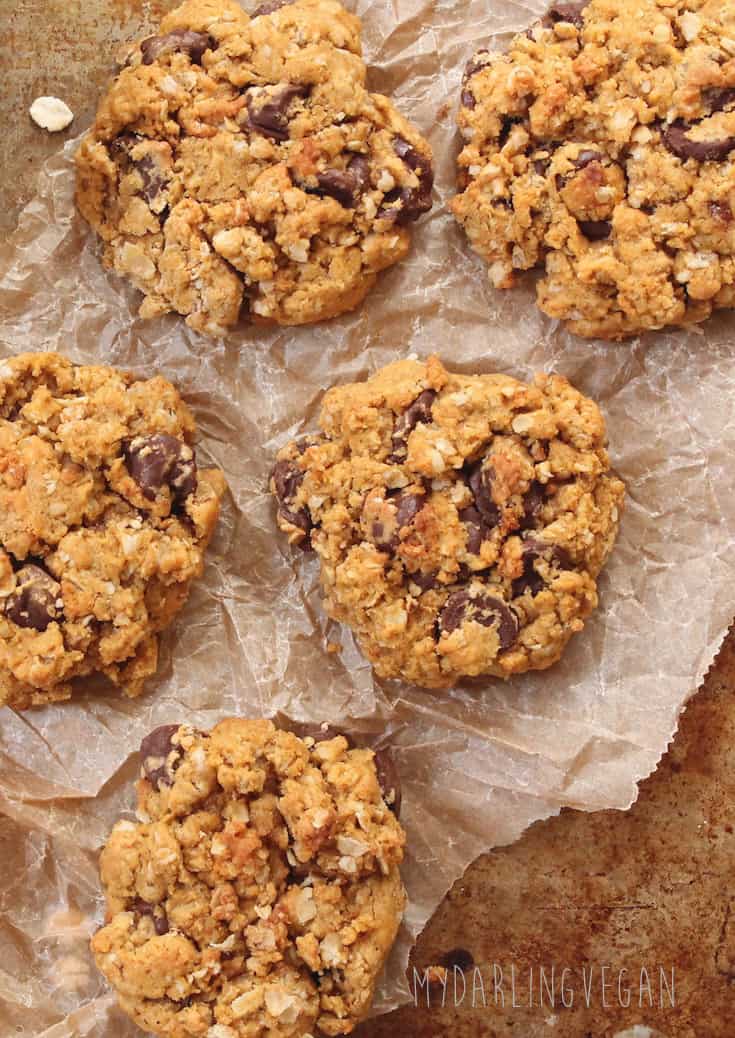 I've done it; I've made the plunge into Pumpkin Season.
I'm a little impressed I've held out this long, really. Usually by mid-July I'm getting anxious for the weather to cool down, the leaves to start changing colors, scarves and warm cardigans to come out, and pumpkins to find their welcomed places in everyone's kitchen. But I've been so caught up with going back to school and getting into a routine, and, let's be honest, enjoying these last few days of summer, that I have been able to hold of until mid September before diving head first into Pumpkin Season.
But I'm doing it. Here I go: Vegan Pumpkin Chocolate Chip Cookies
As many of you know, before I started blogging, I worked in a handful of bakeries both in Oregon and Michigan. Although the bakeries were very different in many regards and my jobs ranged from bread baking to cake decorating and everything in between, each one of them had at least one thing in common: a seasonal version of the pumpkin chocolate chip cookie which were always very popular and never vegan.
This was (obviously) a huge bummer for a vegan who loves pumpkin, chocolate, and all things sweet and it took years of pining away after these cookies before I realized I could do something about it…I could make my own. I was, afterall, a culinary-trained pastry chef with almost a decade of professional experience.
And so that's exactly what I did.
Since then this cookie has been my go-to fall favorites. They are filled with pumpkin flavor and gooey chocolate chips and bursting with cinnamon and nutmeg-y spices. They can be thrown together in 10 minutes with ingredients you likely have on hand and are certain to make your home feel like fall. So what are you waiting for? The time is now to welcome in the most wonderful time of the year!
(Don't worry. I won't go TOO pumpkin-crazy…)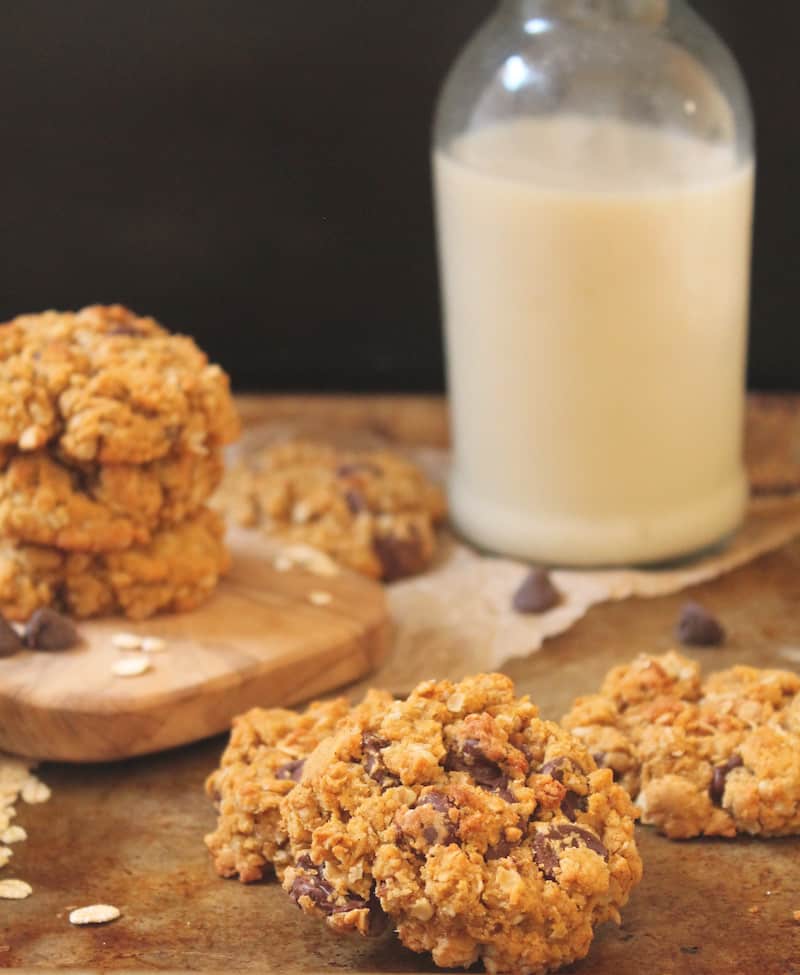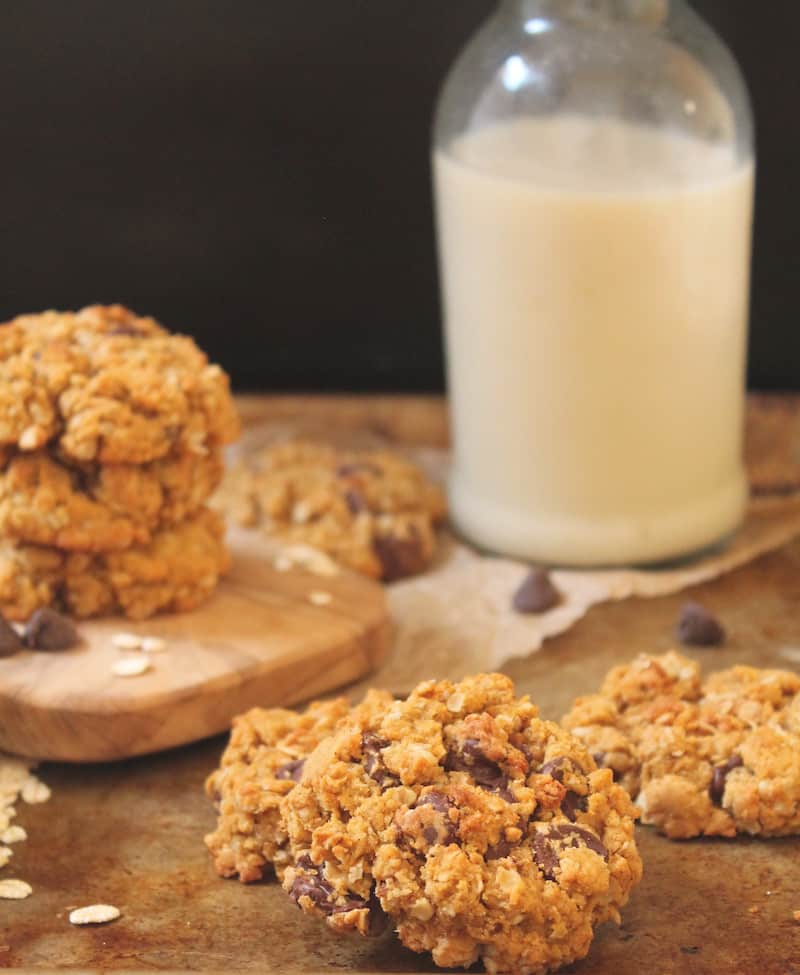 Vegan Oatmeal Chocolate Chip Pumpkin Cookies
2016-09-16 22:03:02
Wet Ingredients
1/4 cup + 2 tablespoons coconut oil, melted
1/2 cup brown sugar
1/4 cup white sugar
3/4 cup pumpkin puree
1 teaspoon vanilla extract
Dry Ingredients
1 1/2 cup all-purpose flour
1 cup rolled oats
1 teaspoon baking powder
1/2 tsp baking soda
1 teaspoon cinnamon
1/4 teaspoon ginger
1/8 teaspoon nutmeg
1/8 teaspoon cloves
1/4 teaspoon salt
1 cup chocolate chips
Instructions
Preheat oven to 375 degrees F. Line 1 or 2 baking sheets with parchment paper or a silicone mat.
In a medium-sized bowl whisk together coconut oil, sugars, pumpkin puree, and vanilla. Set aside. In a separate bowl combine flour, oats, baking powder and soda, spices, and salt. Mix until well combined. Add dry ingredients to wet ingredients and mix until it just comes together. The dough will be very thick. Fold in the chocolate chips.
Drop cookies onto baking sheet, about 2 tbsp each. Press down lightly and bake for 10-12 minutes, until edges golden. Remove from oven and let cool for 10 minutes on baking tray before transferring to a cooling rack to finish cooling completely.
Notes
Store in an airtight container for up to 5 days.
My Darling Vegan https://www.mydarlingvegan.com/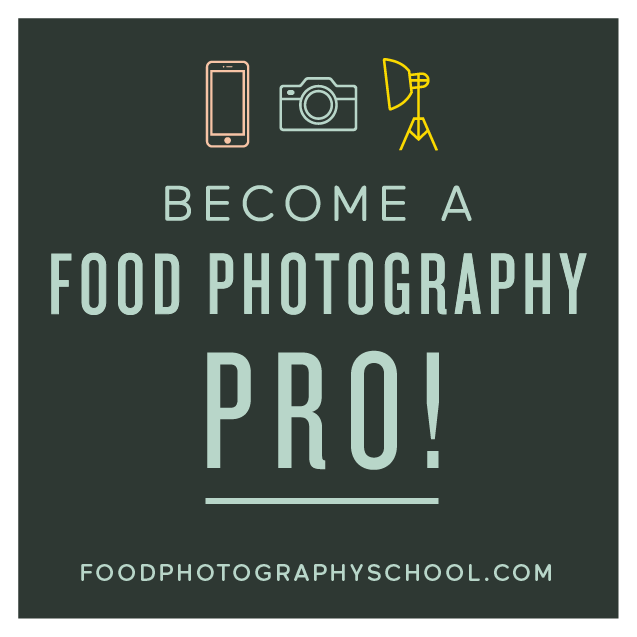 Sign up for
My Darling Vegan Newsletter
get a FREE copy of my Clean Eating Vegan ebook
Advertise Here