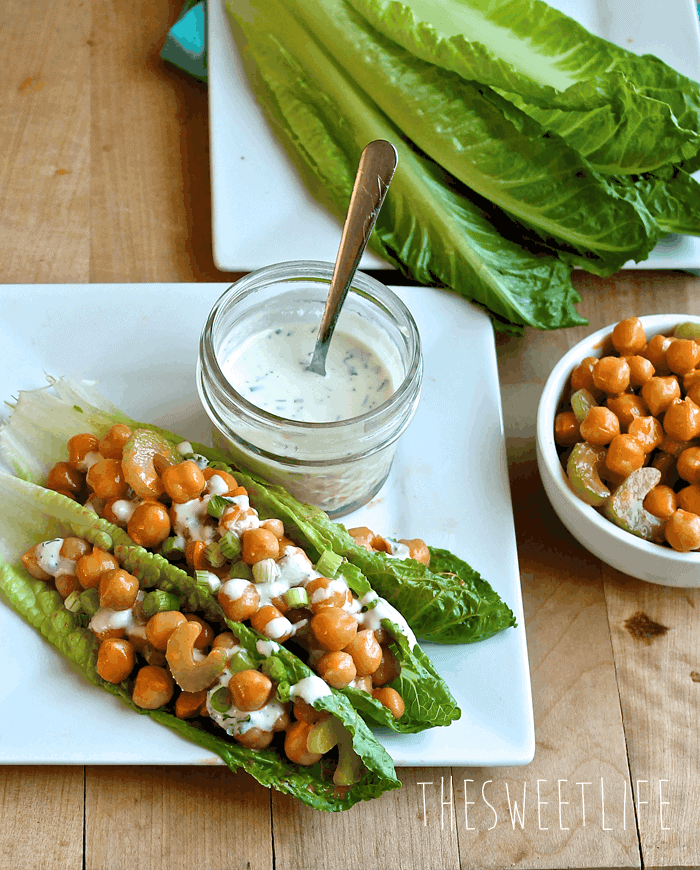 You might think that most of the things I make on this blog are sweets because:
A. It's called The Sweet Life
B. I'm a trained pastry chef
C. I am a self-proclaimed dessert lover
But oftentimes the recipe that I choose are based solely on photography.
Cookies, cakes, and candies are almost always easier to photograph. I love styling, shooting, and editing these pictures because it makes me feel confident as a photographer and I get giddy to share these creations with you. My attempts to photography savory food on the other hand usually makes me feel a little bit discouraged. I can't tell you the number of taco, pizza, curries, etc. that I've made with the intention of sharing only to find myself looking through disappointing, embarrassing, and sometimes downright disgusting pictures of food.
The food gets eaten up and the recipe is forgotten about.
That was almost the fate of these Vegan Buffalo Chickpea Lettuce Wraps.
After a frustrating attempt of trying to take pictures in the ten minutes (if I'm lucky) that the kids are both "napping", I called it quits, accepted the recipe as "for my eyes only", and moved on.
But when Jason came home from work he found the chickpeas in the refrigerator and dug in. According to him, they had "the best buffalo sauce [he] had ever had" and proclaimed he "could eat them for lunch every day for the rest of his life". (You should know, Jason's not the most expressive guy.) I told him the recipe was scraped but he begged me to try again.
A little encouragement is all I need sometimes.
And I guess the best way to learn about photographing savory food is keep trying. Besides, I really don't eat dessert all day long. Really. I don't.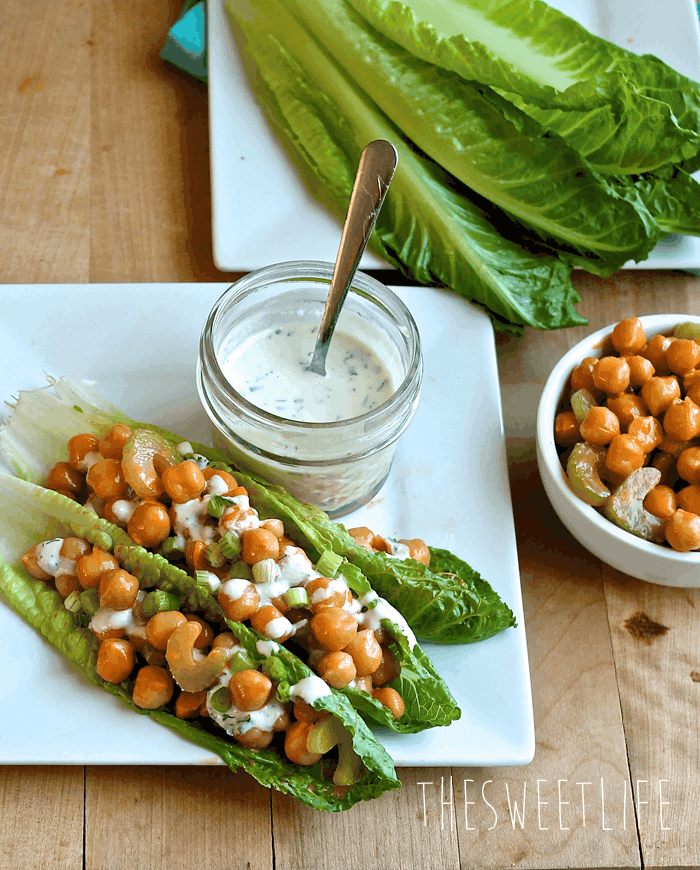 Buffalo Chickpea Lettuce Wraps
serves 2-4
Ingredients
Buffalo Chickpeas
2

cups

cooked chickpeas

1/4

cup

Franks hot sauce

1

tbsp

vegan mayonnaise

1

tsp

agave nectar

1/2

tsp

apple cider vinegar

pinch

of salt

2

celery stalks,

diced
Ranch Dressing
1/2

cup

raw cashews,

soaked 2 hours

1/2

cup

water

2

tbsp

fresh lemon juice

1

tbsp

olive oil

2

cloves

garlic

1

tsp

apple cider vinegar

pinch

of salt

1

tbsp

fresh parsley,

minced

1

tsp

fresh dill,

minced

1

tsp

fresh chives,

minced
Extras
8-12

large leafs of Romain Lettuce

2

green onions,

diced
Instructions
To make the buffalo chickpeas, combine hot sauce, mayonnaise, agave nectar, apple cider vinegar, and salt in a small bowl. Stir in chickpeas and celery, cover, and place in the refrigerator for at least two hours.

To make the ranch dressing, drain and rinse the cashews. In a food processor or high-powered blender combine cashews, water, lemon juice, olive oil, garlic, vinegar, and salt. Blend until completely smooth. Transfer to a small bowl, stir in the minced herbs, cover, and place in the refrigerator for at least one hour.

To assemble, place 3-4 tbsp of buffalo chickpeas inside each romaine lettuce leaf. Drizzle with ranch dressing, top with green onions and serve immediately.

Store chickpeas and dressing in the refrigerator for up to five days.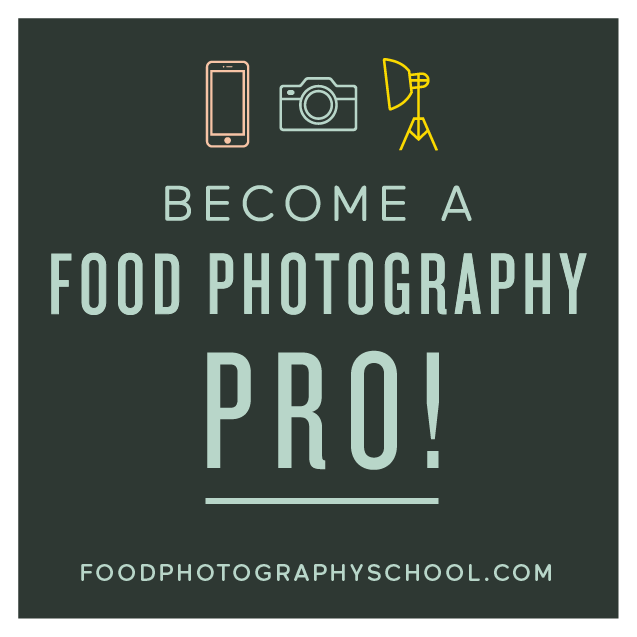 Sign up for
My Darling Vegan Newsletter
get a FREE copy of my Clean Eating Vegan ebook
Advertise Here